Syntactic architecture and its consequences II: Between syntax and morphology
Synopsis
This volume collects novel contributions to comparative generative linguistics that "rethink" existing approaches to an extensive range of phenomena, domains, and architectural questions in linguistic theory. At the heart of the contributions is the tension between descriptive and explanatory adequacy which has long animated generative linguistics and which continues to grow thanks to the increasing amount and diversity of data available to us.

The chapters address research questions in comparative morphosyntax, including the modelling of syntactic categories, relative clauses, and demonstrative systems. Many of these contributions show the influence of research by Ian Roberts and collaborators and give the reader a sense of the lively nature of current discussion of topics in morphosyntax and morphosyntactic variation.
This book is complemented by volume I available at https://langsci-press.org/catalog/book/275 and volume III available at https://langsci-press.org/catalog/book/277.
Chapters
Rethinking universality

Reconciling linguistic theories on comparative variation with an evolutionarily plausible language faculty

Rethinking Remerge

Merge, movement and music

Life without word classes

On a new approach to categorization

The Matrix

Merge and the typology of syntactic categories

On a difference between English and Greek and its theoretical significance

Rethinking linearization

Rethinking the reach of categorical constraints

The Final-over-Final Constraint and combinatorial variability

Rethinking restructuring

Rethinking phrase structure

Strong and weak "strict cyclicity" in phase theory

On the Coordinate Structure Constraint and the Adjunct Condition

Re-thinking re-categorization

Is 'that' really a complementizer?

Types of relative pronouns

Rethinking relatives

V3 in urban youth varieties of Dutch

Rethinking passives

The canonical GOAL passive in Dutch and its dialects

Extraordinary second-position effects

Person splits in Romance

Implications for parameter theory

High and low phases in Norwegian nominals

Evidence from ellipsis, psychologically distal demonstratives and psychologically proximal possessives

Rethinking microvariation in Romance demonstrative systems

Preliminary notes on the Merge position of deictic, anaphoric, distal and proximal demonstratives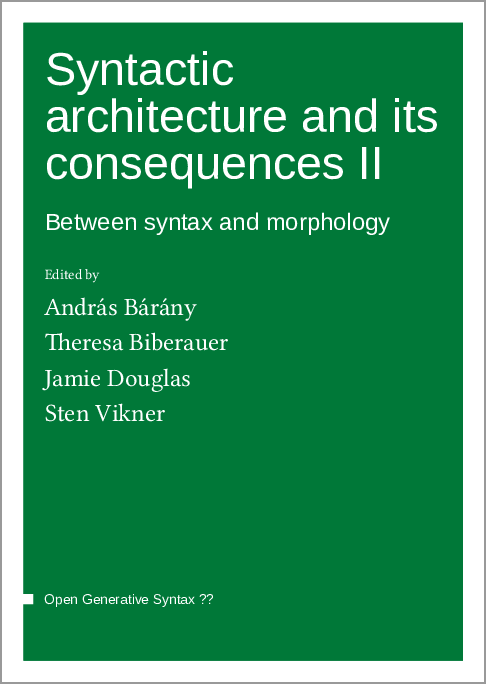 Downloads
Cite as
Bárány, András, Biberauer, Theresa, Douglas, Jamie & Vikner, Sten (eds.). 2020. Syntactic architecture and its consequences II: Between syntax and morphology. (Open Generative Syntax 10). Berlin: Language Science Press. DOI: 10.5281/zenodo.4081038
Copyright (c) 2020 Language Science Press
License
This work is licensed under a Creative Commons Attribution 4.0 International License.
Details about the available publication format: Chapter 22
ISBN-13 (15)
978-3-96110-288-4
Publication date (01)
2020-12-30
doi
10.5281/zenodo.4081038
Details about the available publication format: Hardcover
Co-publisher's ISBN-13 (24)
978-3-96110-289-1