Multiword expressions at length and in depth: Extended papers from the MWE 2017 workshop
Synopsis
The annual workshop on multiword expressions takes place since 2001 in conjunction with major computational linguistics conferences and attracts the attention of an ever-growing community working on a variety of languages, linguistic phenomena and related computational processing issues. MWE 2017 took place in Valencia, Spain, and represented a vibrant panorama of the current research landscape on the computational treatment of multiword expressions, featuring many high-quality submissions. Furthermore, MWE 2017 included the first shared task on multilingual identification of verbal multiword expressions. The shared task, with extended communal work, has developed important multilingual resources and mobilised several research groups in computational linguistics worldwide.
This book contains extended versions of selected papers from the workshop. Authors worked hard to include detailed explanations, broader and deeper analyses, and new exciting results, which were thoroughly reviewed by an internationally renowned committee. We hope that this distinctly joint effort will provide a meaningful and useful snapshot of the multilingual state of the art in multiword expressions modelling and processing, and will be a point point of reference for future work.
Chapters
Preface

"Spilling the bag" on idiomatic variation

Paraphrases of verbal multiword expressions

the case of Czech light verbs and idioms

Identifying senses of particles in verb-particle constructions

PARSEME multilingual corpus of verbal multiword expressions

Analysis and Insights from the PARSEME Shared Task dataset

Semantic reranking of CRF label sequences for verbal multiword expression identification

A transition-based verbal multiword expression analyzer

Identifying verbal multiword expressions with POS tagging and parsing techniques

Semi-automated resolution of inconsistency for a harmonized multiword-expression and dependency-parse annotation

Sequence models and lexical resources for MWE identification in French

Identification of multiword expressions

A fresh look at modelling and evaluation

Comparing bilingual word embeddings to translation dictionaries for extracting multilingual collocation equivalents

Exploiting multilingual lexical resources to predict MWE compositionality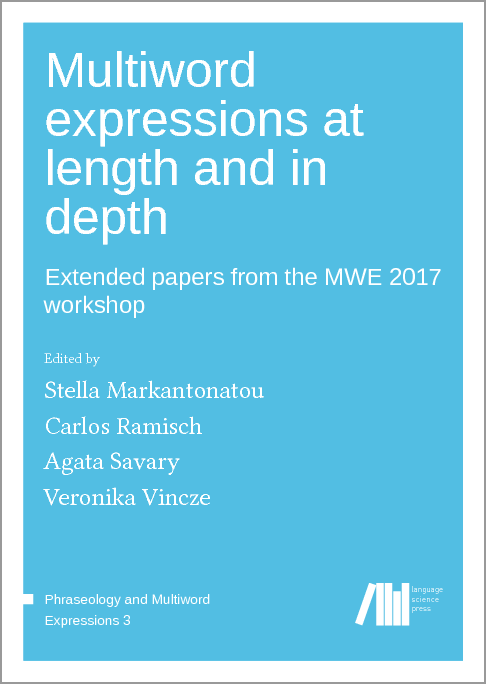 Downloads
Cite as
Markantonatou, Stella, Ramisch, Carlos, Savary, Agata & Vincze, Veronika (eds.). 2018. Multiword expressions at length and in depth: Extended papers from the MWE 2017 workshop. (Phraseology and Multiword Expressions 2). Berlin: Language Science Press. DOI: 10.5281/zenodo.1469527
Copyright (c) 2018 Language Science Press
License
This work is licensed under a Creative Commons Attribution 4.0 International License.
Details about the available publication format: PDF
ISBN-13 (15)
978-3-96110-123-8
Publication date (01)
2018-10-25
doi
10.5281/zenodo.1469527
Details about the available publication format: Hardcover
ISBN-13 (15)
978-3-96110-124-5