Formal approaches to number in Slavic and beyond
Synopsis
The goal of this collective monograph is to explore the relationship between the cognitive notion of number and various grammatical devices expressing this concept in natural language with a special focus on Slavic. The book aims at investigating different morphosyntactic and semantic categories including plurality and number-marking, individuation and countability, cumulativity, distributivity and collectivity, numerals, numeral modifiers and classifiers, as well as other quantifiers. It gathers 19 contributions tackling the main themes from different theoretical and methodological perspectives in order to contribute to our understanding of cross-linguistic patterns both in Slavic and non-Slavic languages.
Chapters
Preface

Number in natural language from a formal perspective

Conceptual representation of lexical and grammatical number

Evidence from SNARC and size congruity effect in the processing of Polish nouns

Strongly non-countable nouns

Strategies against individuality

Syntactic reduplication and plurality

On some properties of NPN subjects and objects in Polish and English

Implications of the number semantics of NP objects for the interpretation of imperfective verbs in Polish

The syntax of plural marking

The view from bare nouns in Wolof

Uniqueness and maximality in German and Polish

A production experiment

Slavic derived collective nouns as spatial and social clusters

Conjunction particles and collective predication

Cumulation cross-linguistically

Distinguishing belief objects

Splitting atoms in natural language

Deconstructing base numerals

English and Polish 10, 100, and 1000

The architecture of complex cardinals in relation to numeral classifiers

Even superlative modifiers

Classifiers make a difference

Kind interpretation and plurality in Hungarian

Some, most, all in a visual world study

Group-denoting vs. counting

Against the scalar explanation of children's interpretation of 'some'

Two kinds of 'much' in Greek

Final words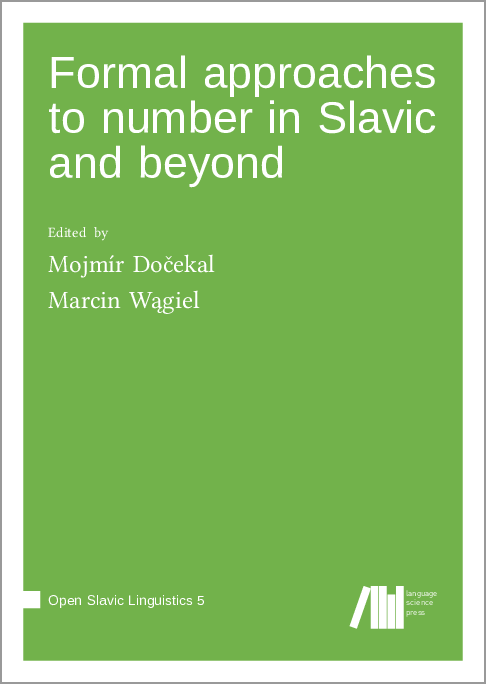 Downloads
Cite as
Dočekal, Mojmír & Wągiel, Marcin (eds.). 2021. Formal approaches to number in Slavic and beyond. (Open Slavic Linguistics 5). Berlin: Language Science Press. DOI: 10.5281/zenodo.5082006
Copyright (c) 2021 Mojmír Dočekal, Marcin Wągiel
License
This work is licensed under a Creative Commons Attribution 4.0 International License.
Details about the available publication format: PDF
ISBN-13 (15)
978-3-96110-314-0
doi
10.5281/zenodo.5082006
Details about the available publication format: Hardcover
ISBN-13 (15)
978-3-98554-010-5