Interviews in the history of linguistics: Volume I
Synopsis
This volume brings together transcripts of ten interviews from the podcast series History and Philosophy of the Language Sciences, covering topics in the history of modern European linguistics from the beginning of the nineteenth century to the mid-twentieth century. The transcripts have been reviewed and edited for clarity and completeness.
Chapters
Wilhelm von Humboldt

Missionary grammars in Australia

Disciplinary linguistics in the nineteenth century

Ferdinand de Saussure

The emergence of phonetics as a field

Émile Beneveniste

Victoria Lady Welby

John Rupert Firth, Bronisław Malinowski, and the London School

Linguistics under National Socialism

The Copenhagen Circle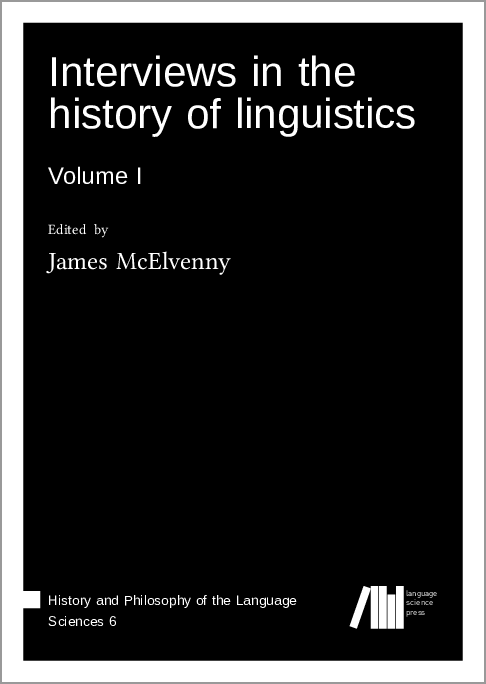 Downloads
Cite as
McElvenny, James. 2022. Interviews in the history of linguistics: Volume I. (History and Philosophy of the Language Sciences 6). Berlin: Language Science Press. DOI: 10.5281/zenodo.7092391
Copyright (c) 2022 Jürgen Trabant, Clara Stockigt, Floris Solleveld, John Joseph, Michael Ashby, Chloé Laplantine, H. Walter Schmitz, Jacqueline Léon, Christopher Hutton, Lorenzo Cigana; James McElvenny
License
This work is licensed under a Creative Commons Attribution 4.0 International License.
Details about the available publication format: PDF
ISBN-13 (15)
978-3-96110-396-6
doi
10.5281/zenodo.7092391
Details about the available publication format: Hardcover
ISBN-13 (15)
978-3-98554-054-9
Physical Dimensions
180mm x 245mm