Mediated discourse at the European Parliament: Empirical investigations
Synopsis

The purpose of this book is to showcase a diverse set of directions in empirical research on mediated discourse, reflecting on the state-of-the-art and the increasing intersection between Corpus-based Interpreting Studies (CBIS) and Corpus-based Translation Studies (CBTS). Undeniably, data from the European Parliament (EP) offer a great opportunity for such research. Not only does the institution provide a sizeable sample of oral debates held at the EP together with their simultaneous interpretations into all languages of the European Union. It also makes available written verbatim reports of the original speeches, which used to be translated. From a methodological perspective, EP materials thus guarantee a great degree of homogeneity, which is particularly valuable in corpus studies, where data comparability is frequently a challenge.

In this volume, progress is visible in both CBIS and CBTS. In interpreting, it manifests itself notably in the availability of comprehensive transcription, annotation and alignment systems. In translation, datasets are becoming substantially richer in metadata, which allow for increasingly refined multi-factorial analysis. At the crossroads between the two fields, intermodal investigations bring to the fore what these mediation modes have in common and how they differ. The volume is thus aimed in particular at Interpreting and Translation scholars looking for new descriptive insights and methodological approaches in the investigation of mediated discourse, but it may be also of interest for (corpus) linguists analysing parliamentary discourse in general.
Chapters
Using European Parliament data in translation and interpreting research

An introduction

Ut interpres

Linguistic convergence between orators and interpreters in the European Parliament

Formality in mediated and non-mediated discourse

Bringing together human judgements and corpus-driven detection

Fluency parameters in the Polish Interpreting Corpus (PINC)

Migration in EP plenary sessions

Discursive strategies for the Other construction and political Self representation in Italian to Spanish interpreter-mediated texts

Using the Gravitational Pull Hypothesis to explain patterns in interpreting and translation

The case of concatenated nouns in mediated European Parliament discourse

Cohesion through the lens of EPTIC-SI

Sentence-initial connectors in interpreted, translated and non-mediated Slovene

Exploring linguistic variation in mediated discourse: translation vs. interpreting

NLP-enhanced shift analysis of named entities in an English<>Spanish intermodal corpus of European petitions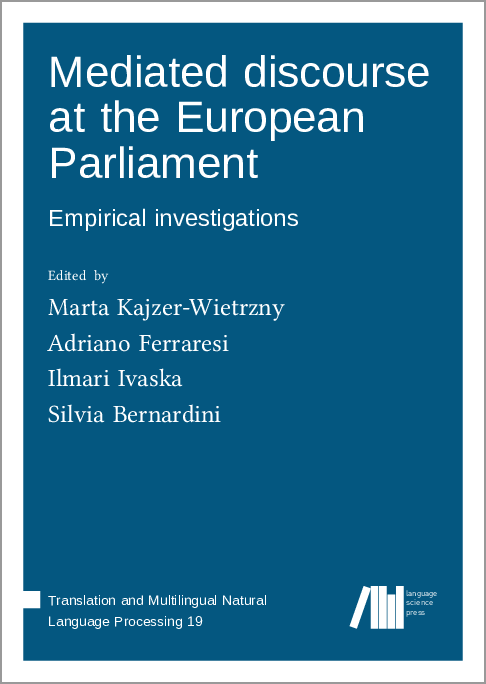 Downloads
Cite as
Kajzer-Wietrzny, Marta, Ferraresi, Adriano, Ivaska, Ilmari & Bernardini, Silvia (eds.). 2022. Mediated discourse at the European Parliament: Empirical investigations. (Translation and Multilingual Natural Language Processing 19). Berlin: Language Science Press. DOI: 10.5281/zenodo.6976930
Copyright (c) 2022 Marta Kajzer-Wietrzny, Sivlia Bernardini, Ilmari Ivaska, Adriano Ferraresi; Bart Defrancq, Koen Plevoets, Agnieszka Chmiel, Danijel Korzinek, Przemysław Janikowski, Dariusz Jakubowski, Dominika Polakowska, Ilaria Anghelli, Laura Mori, Marie-Aude Lefer, Gert De Sutter, Tamara Mikolič Južnič, Agnes Pisanski Peterlin, Heike Przybyl, Alina Karakanta, Katrin Menzel, Elke Teich, Gloria Corpas Pastor, Fernando Sánchez Rodas
License
This work is licensed under a Creative Commons Attribution 4.0 International License.
Details about the available publication format: PDF
ISBN-13 (15)
978-3-96110-393-5
doi
10.5281/zenodo.6976930
Details about the available publication format: Hardcover
ISBN-13 (15)
978-3-98554-051-8
Physical Dimensions
180mm x 245mm