Contemporary research in minoritized and diaspora languages of Europe
Synopsis
This volume provides a collection of research reports on multilingualism and language contact ranging from Romance, to Germanic, Greco and Slavic languages in situations of contact and diaspora. Most of the contributions are empirically-oriented studies presenting first-hand data based on original fieldwork, and a few focus directly on the methodological issues in such research. Owing to the multifaceted nature of contact and diaspora phenomena (e.g. the intrinsic transnational essence of contact and diaspora, and the associated interplay between majority and minoritized languages and multilingual practices in different contact settings, contact-induced language change, and issues relating to convergence) the disciplinary scope is broad, and includes ethnography, qualitative and quantitative sociolinguistics, formal linguistics, descriptive linguistics, contact linguistics, historical linguistics, and language acquisition. Case studies are drawn from Italo-Romance varieties in the Americas, Spanish-Nahuatl contact, Castellano Andino, Greko/Griko in Southern Italy, Yiddish in Anglophone communities, Frisian in the Netherlands, Wymysiöryś in Poland, Sorbian in Germany, and Pomeranian and Zeelandic Flemish in Brazil.
Chapters
Introduction

Documenting Italo-Romance minority languages in the Americas

Problems and tentative solutions

Spanish-Nahuatl bilingualism in Indigenous communities in Mexico

Variation in language proficiency and use

Trilingual modality

Towards an analysis of mood and modality in Aymara, Quechua and Castellano Andino as a joint systematic concept

What is the role of the addressee in speakers' production?

Examples from the Griko- and Greko-speaking communities

Innovations in the Contemporary Hasidic Yiddish pronominal system

Validity of crowd-sourced minority language data

Observing variation patterns in the Stimmen recordings

Complexity of endangered minority languages

The sound system of Wymysiöryś

Language variation and language ideologies as intra- and extralinguistic constructive elements of the Wymysiöryś ethnolinguistic identity

Evaluating linguistic variation in light of sparse data in the case of Sorbian

Modeling accommodation and dialect convergence formally

Loss of the infinitival prefix tau 'to' in Brazilian Pomeranian

Using data of Zeelandic Flemish in Espírito Santo, Brazil for historical reconstruction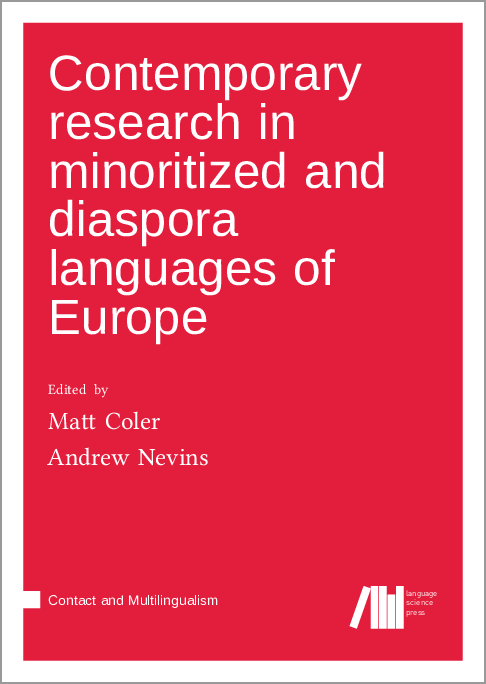 Downloads
Cite as
Coler, Matt & Nevins, Andrew (eds.). 2022. Contemporary research in minoritized and diaspora languages of Europe. (Contact and Multilingualism 6). Berlin: Language Science Press. DOI: 10.5281/zenodo.7442323
Copyright (c) 2021 Andrew Nevins, Matt Coler
License
This work is licensed under a Creative Commons Attribution 4.0 International License.
Details about the available publication format: PDF
ISBN-13 (15)
978-3-96110-404-8
doi
10.5281/zenodo.7442323
Details about the available publication format: Hardcover
ISBN-13 (15)
978-3-98554-062-4
Physical Dimensions
180mm x 245mm