Descriptive and theoretical approaches to African linguistics: Selected papers from the 49th Annual Conference on African Linguistics
Synopsis
Descriptive and Theoretical Approaches to African Linguistics contains a selection of revised and peer-reviewed papers from the 49th Annual Conference on African Linguistics, held at Michigan State University in 2018. The contributions from both students and more senior scholars, based in North America, Africa and other parts of the world, provide a glimpse of the breadth and quality of current research in African linguistics from both descriptive and theoretical perspectives. Fields of interest range from phonetics, phonology, morphology, syntax, semantics to sociolinguistics, historical linguistics, discourse analysis, language documentation, computational linguistics and beyond. The articles reflect both the typological and genetic diversity of languages in Africa and the wide range of research areas covered by presenters at ACAL conferences.
Chapters
Velar Tap in Dàgáárè

On the Ngbugu vowel system

Phonological adaptation of the Belgian French vowels in Kinshasa Lingala

The augment in Ekegusii and Haya

Learning Swahili morphology

Focus marking strategies in Igbo

Focus marking and dialect divergence in Līkpākpáln (Konkomba)

Edges and extraction: Evidence from Chichewa

A syntactic analysis of the cooccurrence of stative and passive in Kiswahili

Propositional attitude verbs and complementizers in Medumba

Overt subjects and agreement in Zulu infinitives

Obligatory controlled subjects in Bùlì

The pragmatics of Swahili relative clauses

Unifying prolepsis and cross-clausal cliticization in Lubukusu

Tense and aspect in Akan serial verb constructions

Counting mass nouns in Guébie

The future of the indigenous languages of Kenya and Tanzania

Discursive strategies for managing bad news: Exemplification from Akan (Ghana)

Lessons from the field: An insight into the documentation of Gurenɛ oral genres

Dialogue with ancestors? Documentation data from Akie in Tanzania

A phylogenetic classification of Luyia language varieties

Proto-Bantu reflexes in Dhaisu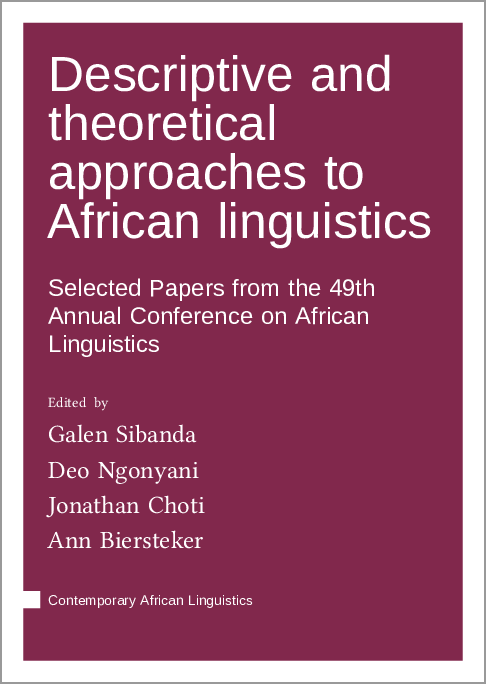 Downloads
Cite as
Sibanda, Galen, Ngonyani, Deo, Choti, Jonathan & Biersteker, Ann (eds.). 2022. Descriptive and theoretical approaches to African linguistics: Selected papers from the 49th Annual Conference on African Linguistics. (Contemporary African Linguistics 6). Berlin: Language Science Press. DOI: 10.5281/zenodo.6358613
Copyright (c) 2021 Galen Sibanda; Mary Amaechi, Doreen Georgi, Abraham Kwesi Bisilki, Kenyon Branan, Colin Davis, Terrance Gatchalian, Rachel Lee, Carolin Tyrchan, Mohamed Mwamzandi, Lydia Newkirk, Kenneth S. Olson, Hannah Sande, Virginia Dawson, Josephat Rugemalira; Deo Ngonyani, Ann Biersteker; Angelina Nduku Kioko, Karsten Legère, Bernd Heine, Christa König, Samuel Gyasi Obeng, Abdul-Razak Sulemana, Claire Halpert, George Akanlig-Pare, Ken Hiraiwa, Samuel Awinkene Atintono, John Goldsmith, Fidèle Mpiranya, Augustina Owusu; Jonathan Choti; Michael R. Marlo, Rebecca Grollemund, Thanh Nguyen, Erik Platner, Sarah Pribe, Alexa Thein, Yan Cong
License
This work is licensed under a Creative Commons Attribution 4.0 International License.
Details about the available publication format: PDF
ISBN-13 (15)
978-3-96110-340-9
doi
10.5281/zenodo.6358613
Details about the available publication format: Hardcover
ISBN-13 (15)
978-3-98554-036-5
Physical Dimensions
180mm x 245mm