Social and structural aspects of language contact and change
Synopsis
This book brings together papers that discuss social and structural aspects of language contact and language change.
Several papers look at the relevance of historical documents to determine the linguistic nature of early contact varieties, while others investigate the specific processes of contact-induced change that were involved in the emergence and development of these languages. A third set of papers look at how new datasets and greater sensitivity to social issues can help to (re)assess persistent theoretical and empirical questions as well as help to open up new avenues of research. In particular they highlight the heterogeneity of contemporary language practices and attitudes often obscured in sociolinguistic research.
The contributions all focus on language variation and change but investigate it from a variety of disciplinary and empirical perspectives and cover a range of linguistic contexts.
Chapters
Social and structural aspects of language contact and change

The pith of pidginization

How Francophones facilitated the simplification of French through Foreigner Talk in the Lesser Antilles

African American language and life in the antebellum North

Philadelphia's Mother Bethel Church

"Suzie & Sambo" (1937–1956)

What can they tell us today?

The expression of possibility in the Chabacano creoles and their adstrates

Paradigmatic restructuring

The case of Northern Indo-Portuguese Creoles

Loíza Spanish and the Spanish Creole debate

A linguistic and sociohistorical account

The value of online corpora for the analysis of variation and change in the Caribbean

Apart, and yet a part

Social class, convergence, and the vowel systems of Columbus African American English and European American English

Talking about Creole

Language attitudes and public discourse in the Caribbean

Jamaican Creole tense and aspect in contact

Insights from acquisition and loss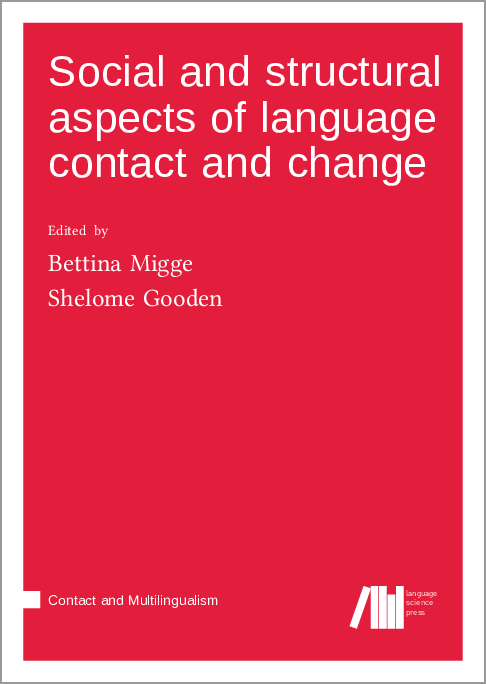 Cite as
Migge, Bettina & Gooden, Shelome (eds.). 2022. Social and structural aspects of language contact and change. (Contact and Multilingualism 5). Berlin: Language Science Press. DOI: 10.5281/zenodo.6602539
Copyright (c) 2020 Bettina Migge, Shelome Gooden (Volume Editor)
License
This work is licensed under a Creative Commons Attribution 4.0 International License.
Details about the available publication format: PDF
ISBN-13 (15)
978-3-96110-347-8
doi
10.5281/zenodo.6602539
Details about the available publication format: Hardcover
ISBN-13 (15)
978-3-98554-044-0
Physical Dimensions
180mm x 245mm