Empirical studies in translation and discourse
Synopsis
The present volume seeks to contribute some studies to the subfield of Empirical Translation Studies and thus aid in extending its reach within the field of translation studies and thus in making our discipline more rigorous and fostering a reproducible research culture. The Translation in Transition conference series, across its editions in Copenhagen (2013), Germersheim (2015) and Ghent (2017), has been a major meeting point for scholars working with these aims in mind, and the conference in Barcelona (2019) has continued this tradition of expanding the sub-field of empirical translation studies to other paradigms within translation studies. This book is a collection of selected papers presented at that fourth Translation in Transition conference, held at the Universitat Pompeu Fabra in Barcelona on 19–20 September 2019.
Chapters
Post-editing: a genealogical perspective on translation practice

Testing the Gravitational Pull Hypothesis on modal verbs expressing obligation and necessity in Catalan through the COVALT corpus

Stylistic normalisation, convergence and cross-linguistic interference in translation

The case of the Czech transgressive

The internationalized text and its localized variations

A parallel analysis of blurbs localized from English into Arabic and French

Movement or debate? How #MeToo is framed differently in English, Spanish and German Twitter discourse

Investigating patterns of saccadic eye movement when using Microsoft's Skype Translator between Catalan and German

What can Euclidean distance do for translation evaluations?

Between audiovisual translation and localization

The case of Detroit: Become Human

Analysing the dimension of mode in translation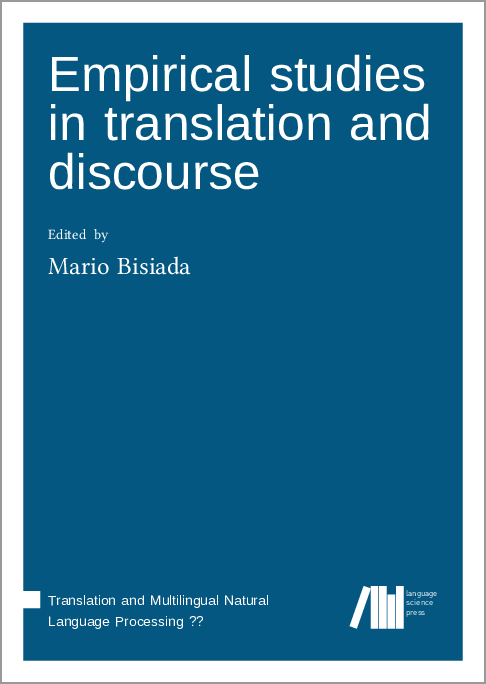 Downloads
Cite as
Bisiada, Mario. 2021. Empirical studies in translation and discourse. (Translation and Multilingual Natural Language Processing 14). Berlin: Language Science Press. DOI: 10.5281/zenodo.4450014
Copyright (c) 2020 Mario Bisiada (Volume Editor); Maeve Olohan, Josep Marco, Olga Nádvorníková, Madiha Kassawat, Felix Hoberg, Éric André Poirier, Laura Mejías-Climent, Ekaterina Lapshinova-Koltunski (Author)
License
This work is licensed under a Creative Commons Attribution 4.0 International License.
Details about the available publication format: PDF
ISBN-13 (15)
978-3-96110-300-3
Publication date (01)
2021-02-16
doi
10.5281/zenodo.4450014
Details about the available publication format: Hardcover
ISBN-13 (15)
978-3-96110-301-0