Celebrating 50 years of ACAL: Selected papers from the 50th Annual Conference on African Linguistics
Synopsis
The papers in this volume were presented at the 50th Annual Conference on African Linguistics held at the University of British Columbia in 2019. The contributions span a range of theoretical topics as well as topics in descriptive and applied linguistics. The papers reflect the typological and genetic diversity of languages in Africa and also represent the breadth of the ACAL community, with papers from both students and more senior scholars, based in North America and beyond. They thus provide a snapshot on current research in African linguistics, from multiple perspectives. To mark the 50th anniversary of the conference, the volume editors reminisce, in the introductory chapter, about their memorable ACALs.
Chapters
Introduction

Celebrating 50 years of ACAL

Morphologically conditioned phonological variation in Nobiin

Marking grammatical tone in orthographies

Issues and challenges

Subordinate clauses in Dadiya

Field research on the use of enclitic -I

A note on WH-questions in Avatime

Clitics or agreement markers

A view from Tigrinya clausal possession and modal necessity

Subject encoding in Limbum

Pronouns, Resumption and Focus

Differential marking in Kinande

Gender and headedness in nominal compounds in Somali

Artistic adaptation of Seenku tone

Musical surrogates vs. vocal music

vP infinitives in Wolof

on Ā-movement to Spec vP

Asymmetries in vowel-pair frequencies and height harmony in Bantu

Acoustic correlates to contrastive tone heights in two African languages

A diachronic analysis of the socio-semantic features of Igbo personal names

Object marking in Lubukusu

Information structure in the verb phrase

Documenting praise names "Ahanoŋkɔ " among Ewes

A socio-semantic perspective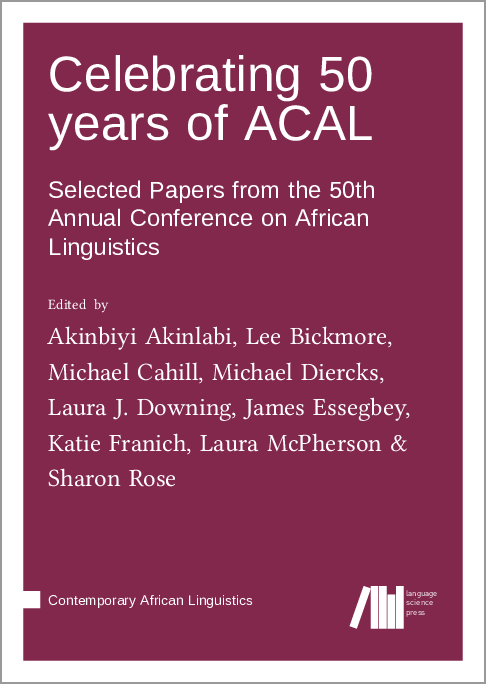 Downloads
Cite as
Akinlabi, Akinbiyi, Bickmore, Lee, Cahill, Michael, Diercks, Michael, Downing, Laura J, Essegbey, James, Franich, Katie & McPherson, Laura (eds.). 2021. Celebrating 50 years of ACAL: Selected papers from the 50th Annual Conference on African Linguistics. (Contemporary African Linguistics 7). Berlin: Language Science Press. DOI: 10.5281/zenodo.5578772
Copyright (c) 2020 Lee Bickmore, Michael Cahill, Michael Diercks, Laura J Downing, James Essegbey, Katie Franich, Laura McPherson, Sharon Rose (Volume Editor)
License
This work is licensed under a Creative Commons Attribution 4.0 International License.
Details about the available publication format: PDF
ISBN-13 (15)
978-3-96110-309-6
doi
10.5281/zenodo.5578772
Details about the available publication format: Hardcover
ISBN-13 (15)
978-3-98554-005-1