Multilingualism and third language acquisition: Learning and teaching trends
Synopsis
The purpose of this book is to present recent studies in the field of multilingualism and L3, bringing together contributions from an international group of specialists from Austria, Canada, Germany, Portugal, Spain, Switzerland, Turkey, and United States. The main focuses of the articles are three: language acquisition, language learning and teaching.
A collection of theoretical and empirical articles from scholars of multilingualism and language acquisition makes the book a significant resource as the papers present a wide perspective from main theories to current issues, reflecting new trends in the field.
The authors focus on the heterogeneity and complexity that characterize third language acquisition, multilingual learning and teaching. As the issues addressed in this book intersect, it represents an asset and therefore the texts will be of great relevance for the scientific community.
Part I presents different topics of L3 acquisition, such as syntax, phonology, working memory and selective attention, and lexicon. Part II comprises texts that show how the research on language acquisition informs pedagogical issues. For instance, the role of the knowledge of previous languages in the teaching of L3, the attitudes of multilingual teachers to plurilingual approaches, and the benefits of crosslinguistic pedagogy versus classroom monolingual bias. In sequence, Part III consists of texts on individual learning strategies, such as motivation and attitudes, crosslinguistic awareness, and students' perceptions about teachers' "plurilingual nonnativism".
All these chapters include several different languages in contact in an acquisition/learning context: Basque, English, French, German, Italian, Ladin, Portuguese, Russian, Spanish, and Turkish.
Chapters
Preface

Cognitive processes and interpreting expertise

Autonomous exercise of master's students

On the acquisition of European Portuguese liquid consonants by L1-Mandarin learners

A close look at how context of acquisition of previous languages influences third language pedagogy

Does one model fit all?

Multilingual teachers, plurilingual approach and L3 acquisition

Interviews with multilingual teachers and their L3/L3+ students

Debunking student teachers' beliefs regarding the target-language-only rule

Training teachers for the challenges of multilingual education

Exploring learner attitudes in multilingual contexts

An empirical investigation at the primary school level

Building bridges between languages

How students develop crosslinguistic awareness in multilingual learning settings

Students' perceptions of plurilingual nonnative teachers in higher education

An added or a mudded value?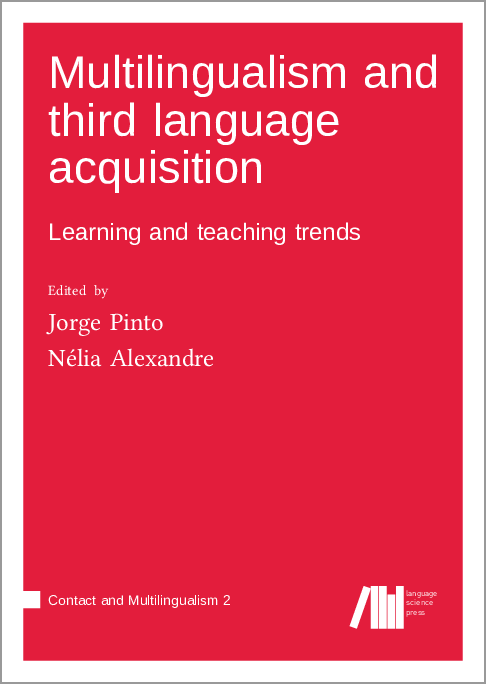 Downloads
Cite as
Pinto, Jorge & Alexandre, Nélia (eds.). 2021. Multilingualism and third language acquisition: Learning and teaching trends. (Contact and Multilingualism 2). Berlin: Language Science Press. DOI: 10.5281/zenodo.4449726
Copyright (c) 2021 Jorge Pinto, Nélia Alexandre (Volume Editor)
License
This work is licensed under a Creative Commons Attribution 4.0 International License.
Details about the available publication format: PDF
ISBN-13 (15)
978-3-96110-296-9
Publication date (01)
2021-02-17
doi
10.5281/zenodo.4449726
Details about the available publication format: Hardcover
ISBN-13 (15)
978-3-96110-297-6