Getting others to do things: A pragmatic typology of recruitments
Synopsis
Getting others to do things is a central part of social interaction in any human society. Language is our main tool for this purpose. In this book, we show that sequences of interaction in which one person's behaviour solicits or occasions another's assistance or collaboration share common structural properties that provide a basis for the systematic comparison of this domain across languages. The goal of this comparison is to uncover similarities and differences in how language and other conduct are used in carrying out social action around the world, including different kinds of requests, orders, suggestions, and other actions brought together under the rubric of recruitment.
Chapters
Recruitments and pragmatic typology

A coding scheme for recruitment sequences in interaction

Getting others to do things in the Cha'palaa language of Ecuador

Recruitment in English

A quantitative study

The recruitment system in Italian

Recruitments in Lao

Recruitments in Murrinhpatha and the preference organisation of their possible responses

Recruitments in Polish

Recruiting assistance in Russian

Recruiting assistance and collaboration in interaction

A West-African corpus study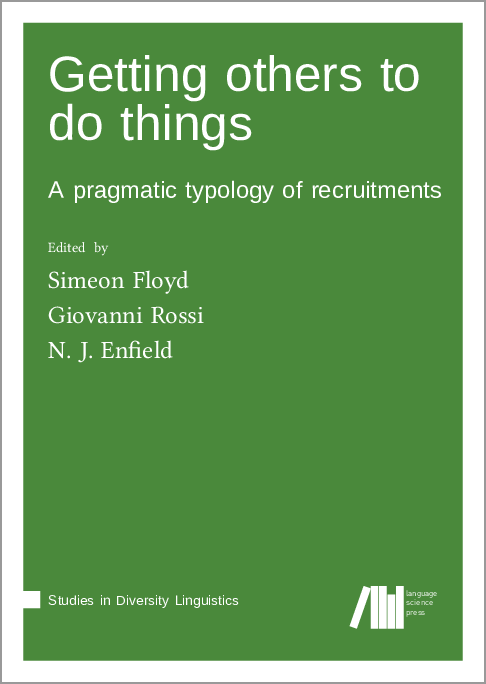 Downloads
Cite as
Floyd, Simeon, Rossi, Giovanni, Enfield, N. J., Kendrick, Kobin H., Blythe, Joe, Zinken, Jörg, Baranova, Julija & Dingemanse, Mark. 2020. Getting others to do things: A pragmatic typology of recruitments. (Studies in Diversity Linguistics 31). Berlin: Language Science Press. DOI: 10.5281/zenodo.4017493
Copyright (c) 2020 Language Science Press
License
This work is licensed under a Creative Commons Attribution 4.0 International License.
Details about the available publication format: PDF
ISBN-13 (15)
978-3-96110-278-5
Publication date (01)
2020-09-11
doi
10.5281/zenodo.4017493
Details about the available publication format: Hardcover
ISBN-13 (15)
978-3-96110-279-2