Arabic and contact-induced change
Synopsis
This volume offers a synthesis of current expertise on contact-induced change in Arabic and its neighbours, with thirty chapters written by many of the leading experts on this topic. Its purpose is to showcase the current state of knowledge regarding the diverse outcomes of contacts between Arabic and other languages, in a format that is both accessible and useful to Arabists, historical linguists, and students of language contact.
Chapters
Introduction

Pre-Islamic Arabic

Classical and Modern Standard Arabic

Arabic in Iraq, Syria, and southern Turkey

Khuzestan Arabic

Anatolian Arabic

Cypriot Maronite Arabic

Nigerian Arabic

Maghrebi Arabic

Moroccan Arabic

Andalusi Arabic

Ḥassāniyya Arabic

Maltese

Arabic in the diaspora

Arabic pidgins and creoles

Modern South Arabian languages

Neo-Aramaic

Berber

Beja

Iranian languages

Kurdish

Northern Domari

Jerusalem Domari

Mediterranean Lingua Franca

New-dialect formation: The Amman dialect

Dialect contact and phonological change

Contact and variation in Arabic intonation

Contact-induced grammaticalization between Arabic dialects

Contact and calquing

Contact and the expression of negation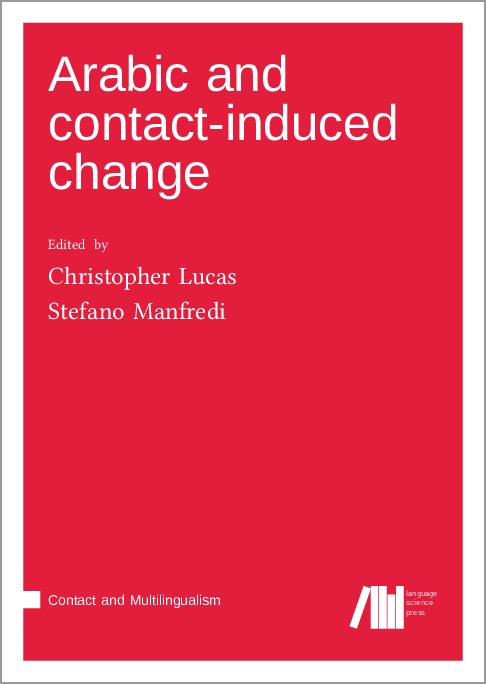 Downloads
Cite as
Lucas, Christopher & Manfredi, Stefano (eds.). 2019. Arabic and contact-induced change. (Contact and Multilingualism 1). Berlin: Language Science Press. DOI: 10.5281/zenodo.3744565
Copyright (c) 2019 Language Science Press
License
This work is licensed under a Creative Commons Attribution 4.0 International License.
Details about the available publication format: PDF
ISBN-13 (15)
978-3-96110-251-8
Publication date (01)
2020-05-20
doi
10.5281/zenodo.3744565
Details about the available publication format: Hardcover
ISBN-13 (15)
978-3-96110-252-5