On this and other worlds: Voices from Amazonia
Synopsis
This edited volume offers a collection of twelve interlinear texts reflecting the vast linguistic diversity of Amazonia as well as the rich verbal arts and oral literature traditions of Amazonian peoples. Contributions to the volume come from a variety of geographic regions and represent the Carib, Jê, Tupi, East Tukano, Nadahup, and Pano language families, as well as three linguistic isolates. The selected texts exemplify a variety of narrative styles recounting the origins of constellations, crops, and sacred cemeteries, and of travel to worlds beyond death. We hear tales of tricksters and of encounters between humans and other beings, learn of battles between enemies, and gain insight into history and the indigenous perspective of creation, cordiality and confrontation.
The contributions to this volume are the result of research efforts conducted since 2000, and as such, exemplify rapidly expanding investment and interest in documenting native Amazonian voices. They moreover demonstrate the collaborative efforts of linguists, anthropologists, and indigenous leaders, storytellers, and researchers to study and preserve Amazonian languages and cultures. Each chapter offers complete interlinear analysis as well as ample commentary on both linguistic and cultural aspects, appealing to a wide audience, including linguists, historians, anthropologists, and other social scientists. This collection is the first of its type, constituting a significant contribution to focused study of Amazonian linguistic diversity and a relevant addition to our broader knowledge of Amerindian languages and cosmologies.
Chapters
Amazonian narrative verbal arts and typological gems

Kuikuro

Kalapalo

Marubo

Trumai

Kotiria

Hup

Sakurabiat

Kĩsêdjê

Kwaza

Aikanã

Suruí of Rondônia

Ka'apor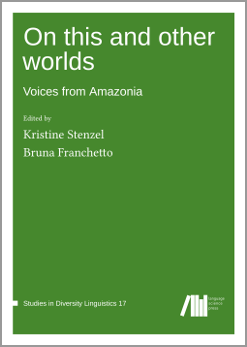 Downloads
Cite as
Stenzel, Kristine & Franchetto, Bruna (eds.). 2017. On this and other worlds: Voices from Amazonia. (Studies in Diversity Linguistics 17). Berlin: Language Science Press. DOI: 10.5281/zenodo.892102
Copyright (c) 2017 Language Science Press
License
This work is licensed under a Creative Commons Attribution 4.0 International License.
Details about the available publication format: PDF
ISBN-13 (15)
978-3-96110-018-7
Publication date (01)
2017-10-12
doi
10.5281/zenodo.892102
Details about the available publication format: Hardcover
ISBN-13 (15)
978-3-96110-019-4