The Ik language: Dictionary and grammar sketch
Synopsis
This book is a dictionary and grammar sketch of Ik, one of the three Kuliak (Rub) languages spoken in the beautiful Karamoja region of northeastern Uganda. It is the lexicographic sequel to A grammar of Ik (Icé-tód): Northeast Uganda's last thriving Kuliak language (Schrock 2014). The present volume includes an Ik-English dictionary with roughly 8,700 entries, followed by a reversed English-Ik index. These two main sections are then supplemented with an outline of Ik grammar that is comprehensive in its coverage of topics and written in a simple style, using standard linguistic terminology in a way that is accessible to interested non-linguists as well. This book may prove useful for language preservation and development among the Ik people, as a reference tool for non-Ik learners of the language, and as a source of data, not only for the comparative study of Kuliak but also the wider Afroasiatic and Nilo-Saharan language families.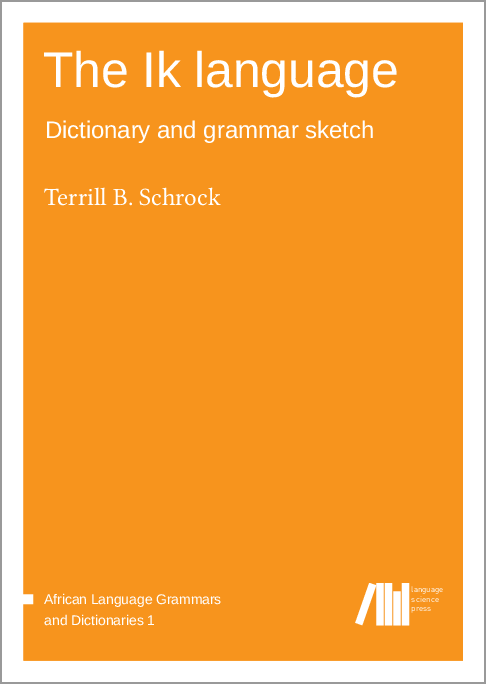 Downloads
Cite as
Schrock, Terrill. 2017. The Ik language: Dictionary and grammar sketch. (African Language Grammars and Dictionaries 1). Berlin: Language Science Press. DOI: 10.5281/zenodo.344792
Copyright (c) 2017 Terrill Schrock
License
This work is licensed under a Creative Commons Attribution 4.0 International License.
Details about the available publication format: PDF
ISBN-13 (15)
978-3-944675-95-4
Publication date (01)
2017-03-13
doi
10.5281/zenodo.344792
Details about the available publication format: Hardcover
ISBN-13 (15)
978-3-944675-96-1