Die Sprachwissenschaft: Ihre Aufgaben, Methoden und bisherigen Ergebnisse
Synopsis
English
Die Sprachwissenschaftis the magnum opus of the German sinologist and linguist Georg von der Gabelentz (1840-1893), a late 19th-century representative of the Humboldtian tradition of linguistic research. The book exists in two versions: a first edition of 1891 and a second posthumous edition of 1901, revised and expanded by Albrecht Graf von der Schulenburg (1865–1902), a nephew and pupil of Gabelentz. This critical edition presents for the first time the text of the two editions in a form that allows them to be easily compared. It represents a valuable resource for historiographical research into linguistics on the eve of the 20th century.
Deutsch
Die Sprachwissenschaft ist das Hauptwerk des deutschen Sinologen und Sprachwissenschaftlers Georg von der Gabelentz (1840–1893), eines Vertreters der humboldtschen Richtung der Sprachforschung im neunzehnten Jahrhundert. Als es erschien, wurde das Buch von einer Fachlinguistik, die sich schon längst auf den positivistischen Weg der Junggrammatiker begeben hatte, nur kühl rezipiert. Ab der Mitte des 20. Jahrhunderts wurde das Buch jedoch immer öfter als Bindeglied zwischen den Denkströmungen des 19. Jahrhunderts und dem aufkommenden Strukturalismus des 20. Jahrhunderts betrachtet.
Das Buch erschien in zwei Auflagen; die erste zu Gabelentz' Lebzeiten, im Jahr 1891, und die zweite posthum im Jahr 1901, die von Albrecht Graf von der Schulenburg (1865–1902), einem Neffen und Schüler Gabelentz', erheblich überarbeitet und erweitert wurde.
Diese kritische Ausgabe bietet zum ersten Mal den Text der beiden Auflagen in einer Form dar, die es dem Leser ermöglicht, die beiden Auflagen leicht zu vergleichen. Dadurch stellt diese Ausgabe eine wertvolle Quelle für historiographische Forschung zum Stand der Linguistik an der Schwelle zum 20. Jahrhundert dar.
German law requires we state the prices in Germany for this publication. The hardcover price is 170.00 EUR. The softcover version comes in two volumes. The first volume is 74.90 EUR, the second volume is 53.50 EUR.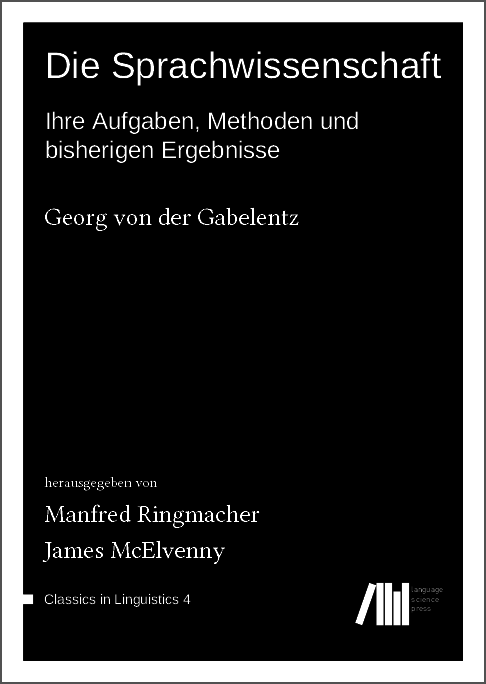 Cite as
von der Gabelentz, Georg, McElvenny, James & Ringmacher, Manfred. 2016. Die Sprachwissenschaft: Ihre Aufgaben, Methoden und bisherigen Ergebnisse. (Classics in Linguistics 4). Berlin: Language Science Press. DOI: 10.17169/langsci.b97.143
Copyright (c) 2016 Georg von der Gabelentz; James McElvenny, Manfred Ringmacher
License
This work is licensed under a Creative Commons Attribution 4.0 International License.
Details about the available publication format: PDF
ISBN-13 (15)
978-3-946234-34-0
Publication date (01)
2016-04-12
doi
10.17169/langsci.b97.143
Details about the available publication format: Bibliography
Publication date (01)
2016-04-12
doi
10.17169/langsci.b97.144
Details about the available publication format: Hardcover
ISBN-13 (15)
978-3-946234-35-7