Advances in the study of Siouan languages and linguistics
Synopsis
The Siouan family comprises some twenty languages, historically spoken across a broad swath of the central North American plains and woodlands, as well as in parts of the southeastern United States. In spite of its geographical extent and diversity, and the size and importance of several Siouan-speaking tribes, this family has received relatively little attention in the linguistic literature and many of the individual Siouan languages are severely understudied. This volume aims to make work on Siouan languages more broadly available and to encourage deeper investigation of the myriad typological, theoretical, descriptive, and pedagogical issues they raise.
The 17 chapters in this volume present a broad range of current Siouan research, focusing on various Siouan languages, from a variety of linguistic perspectives: historical-genetic, philological, applied, descriptive, formal/generative, and comparative/typological. The editors' preface summarizes characteristic features of the Siouan family, including head-final and "verb-centered" syntax, a complex system of verbal affixes including applicatives and subject-possessives, head-internal relative clauses, gendered speech markers, stop-systems including ejectives, and a preference for certain prosodic and phonotactic patterns.
The volume is dedicated to the memory of Professor Robert L. Rankin, a towering figure in Siouan linguistics throughout his long career, who passed away in February of 2014.
Chapters
A distant genetic relationship between Siouan-Catawban and Yuchi

Two Siouan languages walk into a sprachbund

Regular sound shifts in the history of Siouan

Ba-be-bi-bo-ra

Refinement of the Ho-Chunk syllabary in the nineteenth and twentieth centuries

A forgotten figure in Siouan and Caddoan linguistics

Samuel Stehman Haldeman (1812-1880)

In his own words

Robert Rankin recalls his work with the Kaw people and their language

Perspectives on Chiwere revitalization

Reconstructing post-verbal negation in Kansa

A pedagogical problem

Baxoje-Jiwere grammar sketch

The phonology of Lakota voiced stops

The syntax and semantics of internally headed relative clauses in Hidatsa

A description of verb-phrase ellipsis in Hocąk

On the structure and constituency of Hocąk resultatives

Evidence for a VP constituent in Hocąk

Coordination and related constructions in Omaha-Ponca and in Siouan languages

Information-structural variations in Siouan languages

NP-internal possessive constructions in Hoocąk and other Siouan languages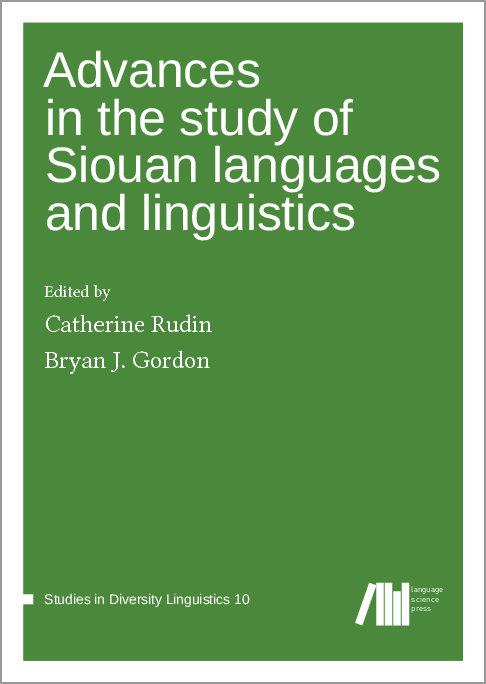 Downloads
Copyright (c) 2016 Catherine Rudin, Bryan James Gordon; Ryan M. Kasak, David Kaufman, Rory Larson, Kathleen Danker, Anthony Grant, Linda Cumberland, Jimm Goodtracks, Saul Schwartz, Justin T. McBride, Jill D. Greer, David Rood, John P. Boyle, Meredith Johnson, Bryan Rosen, Mateja Schuck, Johannes Helmbrecht
License
This work is licensed under a Creative Commons Attribution 4.0 International License.
Details about the available publication format: PDF
ISBN-13 (15)
978-3-946234-37-1
Publication date (01)
2016-05-18
doi
10.17169/langsci.b94.118
Details about the available publication format: Bibliography
Publication date (01)
2016-05-18
doi
10.17169/langsci.b94.119
Details about the available publication format: Chapter 1
Publication date (01)
2016-05-18
doi
10.17169/langsci.b94.120
Details about the available publication format: Chapter 2
Publication date (01)
2016-05-18
doi
10.17169/langsci.b94.121
Details about the available publication format: Chapter 3
Publication date (01)
2016-05-18
doi
10.17169/langsci.b94.122
Details about the available publication format: Chapter 4
Publication date (01)
2016-05-18
doi
10.17169/langsci.b94.123
Details about the available publication format: Chapter 5
Publication date (01)
2016-05-18
doi
10.17169/langsci.b94.124
Details about the available publication format: Chapter 6
Publication date (01)
2016-05-18
doi
10.17169/langsci.b94.169
Details about the available publication format: Chapter 7
Publication date (01)
2016-05-18
doi
10.17169/langsci.b94.170
Details about the available publication format: Chapter 8
Publication date (01)
2016-05-18
doi
10.17169/langsci.b94.171
Details about the available publication format: Chapter 9
Publication date (01)
2016-05-18
doi
10.17169/langsci.b94.172
Details about the available publication format: Chapter 10
Publication date (01)
2016-05-18
doi
10.17169/langsci.b94.173
Details about the available publication format: Chapter 11
Publication date (01)
2016-05-18
doi
10.17169/langsci.b94.174
Details about the available publication format: Chapter 12
Publication date (01)
2016-05-18
doi
10.17169/langsci.b94.175
Details about the available publication format: Chapter 13
Publication date (01)
2016-05-18
doi
10.17169/langsci.b94.176
Details about the available publication format: Chapter 14
Publication date (01)
2016-05-18
doi
10.17169/langsci.b94.177
Details about the available publication format: Chapter 15
Publication date (01)
2016-05-18
doi
10.17169/langsci.b94.178
Details about the available publication format: Chapter 16
Publication date (01)
2016-05-18
doi
10.17169/langsci.b94.179
Details about the available publication format: Chapter 17
Publication date (01)
2016-05-18
doi
10.17169/langsci.b94.180
Details about the available publication format: Hardcover
ISBN-13 (15)
978-3-946234-38-8