Thoughts on grammaticalization
Synopsis
"Thoughts on grammaticalization" was first published in a working-paper version in 1982 and became very influential immediately, even though it was properly published only in 1995. Despite its modest title, the book can be read as an advanced introduction to grammaticalization, though its conception is very original. The present edition contains a number of corrections of the 1995 edition. After a short review of the history of research, the work introduces and delimits the concepts related to grammaticalization. It then provides extensive exemplification of grammaticalization phenomena in diverse languages, ordered by grammatical domains such as the verbal, pronominal and nominal sphere and clause level relations. The final chapter presents a theory of grammaticalization which is based on the autonomy of the linguistic sign with respect to the paradigmatic and syntagmatic axes. This is the basis of the structural parameters that constitute grammaticalization. They are operationalized to the point of rendering degrees of grammaticalization measurable.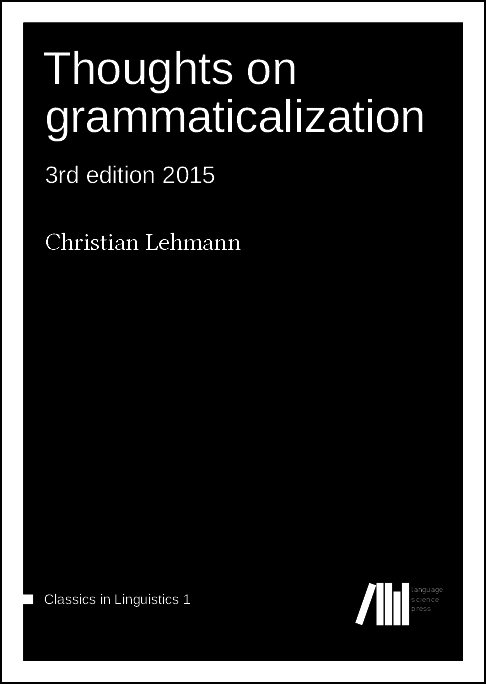 Downloads
Cite as
Lehmann, Christian. 2015. Thoughts on grammaticalization. (Classics in Linguistics 1). Berlin: Language Science Press.
Copyright (c) 2016 Christian Lehmann
License
This work is licensed under a Creative Commons Attribution 4.0 International License.
Details about the available publication format: PDF
ISBN-13 (15)
978-3-946234-05-0
Details about the available publication format: Bibliography
Publication date (01)
2015-12-08
doi
10.17169/langsci.b88.99
Details about the available publication format: Hardcover
ISBN-13 (15)
978-3-946234-06-7