New directions in corpus-based translation studies
Keywords:
corpus linguistics, translation, corpus-based translation studies, multilingual corpora, parallel corpora
Synopsis
Corpus-based translation studies has become a major paradigm and research methodology and has investigated a wide variety of topics in the last two decades. The contributions to this volume add to the range of corpus-based studies by providing examples of some less explored applications of corpus analysis methods to translation research. They show that the area keeps evolving as it constantly opens up to different frameworks and approaches, from appraisal theory to process-oriented analysis, and encompasses multiple translation settings, including (indirect) literary translation, machine(-assisted) translation and the practical work of professional legal translators. The studies included in the volume also expand the range of application of corpus applications in terms of the tools used to accomplish the research tasks outlined.
Chapters
Creating and using multilingual corpora in translation studies

Development of a keystroke logged translation corpus

Racism goes to the Movies

A corpus-driven study of cross-linguistic racist discourse annotation and translation analysis

Building a trilingual parallel corpus to analyse literary translations from German into Basque

Variation in translation

Evidence from corpora

Non-Human Agents in Subject Position

Translation from English into Dutch - A corpus-based translation study of 'give' and 'show'

Investigating judicial phraseology with COSPE

A contrastive corpus- based study
Reviews
Review on LinguistList by Daria Dayter published February 25, 2016

On the whole, "New directions in corpus-based translation studies" is an excellent publication that gives us a window into the ongoing research in CBTS and undoubtedly deserves the attention of translation scholars, among them those interested in literary translation, machine translation, legal translation, and corpus design. The book can also serve as supplementary reading for courses in translation studies to bring the students up to date on the state of translation research; however, they would need to refer to a simpler text to familiarize themselves with the basics.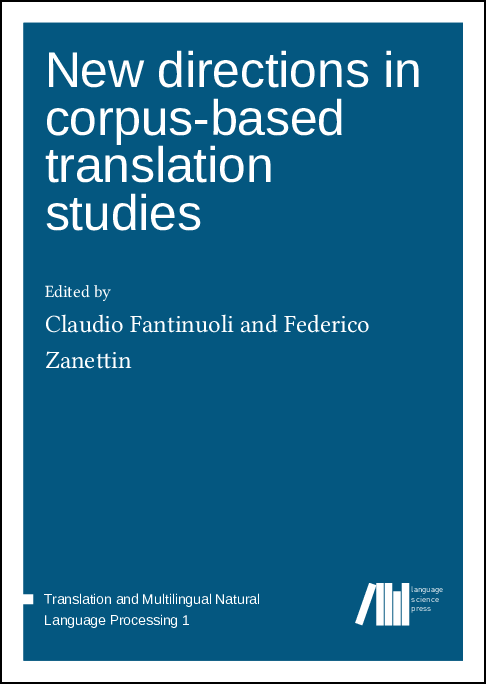 Downloads
Cite as
Fantinuoli, Claudio & Zanettin, Federico (eds.). 2015. New directions in corpus-based translation studies. (Translation and Multilingual Natural Language Processing 1). Berlin: Language Science Press. DOI: 10.17169/langsci.b76.64 DOI: 10.17169/langsci.b76.65 DOI: 10.17169/langsci.b76.66 DOI: 10.17169/langsci.b76.67 DOI: 10.17169/langsci.b76.68 DOI: 10.17169/langsci.b76.69 DOI: 10.17169/langsci.b76.70 DOI: 10.17169/langsci.b76.71 DOI: 10.17169/langsci.b76.72 DOI: 10.17169/langsci.b76.73 DOI: 10.17169/langsci.b76.74
Copyright (c) 2016 Claudio Fantinuoli, Federico Zanettin; Tatiana Serbina, Paula Niemietz, Stella Neumann, Effie Mouka, Ioannis E. Saridakis, Angeliki Fotopoulou, Naroa Zubillaga, Zuriñe Sanz, Ibon Uribarri, Ekaterina Lapshinova-Koltunski, Steven Doms, Gianluca Pontrandolfo
License
This work is licensed under a Creative Commons Attribution 4.0 International License.
Details about the available publication format: PDF
ISBN-13 (15)
978-3-944675-83-1
Publication date (01)
2015-05-28
doi
10.17169/langsci.b76.64
Details about the available publication format: Bibliography
Publication date (01)
2015-05-28
doi
10.17169/langsci.b76.65
Details about the available publication format: Frontmatter
Publication date (01)
2015-05-28
doi
10.17169/langsci.b76.66
Details about the available publication format: Chapter 1
Publication date (01)
2015-05-28
doi
10.17169/langsci.b76.67
Details about the available publication format: Chapter 2
Publication date (01)
2015-05-28
doi
10.17169/langsci.b76.68
Details about the available publication format: Chapter 3
Publication date (01)
2015-05-28
doi
10.17169/langsci.b76.69
Details about the available publication format: Chapter 4
Publication date (01)
2015-05-28
doi
10.17169/langsci.b76.70
Details about the available publication format: Chapter 5
Publication date (01)
2015-05-28
doi
10.17169/langsci.b76.71
Details about the available publication format: Chapter 6
Publication date (01)
2015-05-28
doi
10.17169/langsci.b76.72
Details about the available publication format: Chapter 7
Publication date (01)
2015-05-28
doi
10.17169/langsci.b76.73
Details about the available publication format: Indexes
Publication date (01)
2015-05-28
doi
10.17169/langsci.b76.74
Details about the available publication format: Hardcover
ISBN-13 (15)
978-3-944675-74-9
Details about the available publication format: Softcover
ISBN-13 (15)
978-1-523743-55-1