The evolution of case grammar
Synopsis
There are few linguistic phenomena that have seduced linguists so skillfully as grammatical case has done. Ever since Panini (4th Century BC), case has claimed a central role in linguistic theory and continues to do so today. However, despite centuries worth of research, case has yet to reveal its most important secrets.
This book offers breakthrough explanations for the understanding of case through agent-based experiments in cultural language evolution. The experiments demonstrate that case systems may emerge because they have a selective advantage for communication: they reduce the cognitive effort that listeners need for semantic interpretation, while at the same time limiting the cognitive resources required for doing so.
Reviews
Review on LinguistList by Daniel Walter published May 1, 2017

In sum, van Trijp's book does an excellent job of providing access to a complex research area. His efforts in describing not only what he did, but also his justifications allow readers a deeper understanding of the assumptions researchers in computational linguistics need to make. Van Trijp weaves together a long studied area of linguistics with a novel approach using computational models and discusses the relevance of his results not only for computational linguistics, but to linguistics more generally.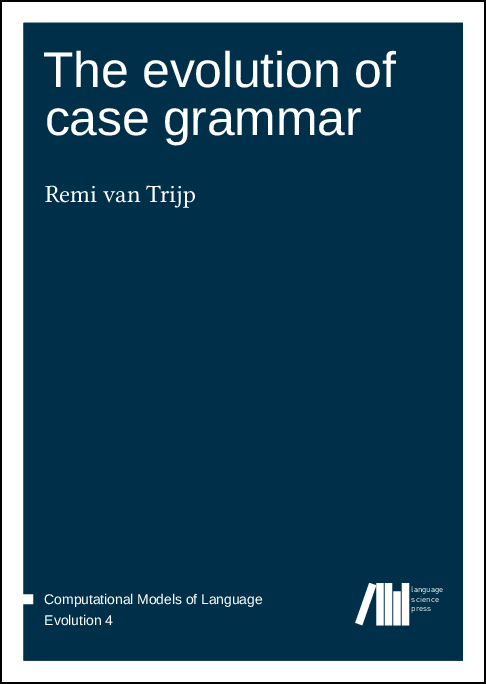 Downloads
Cite as
van Trijp, Remi. 2016. The evolution of case grammar. (Computational Models of Language Evolution 4). Berlin: Language Science Press. DOI: 10.17169/langsci.b52.182
Copyright (c) 2016 Remi van Trijp
License
This work is licensed under a Creative Commons Attribution 4.0 International License.
Details about the available publication format: PDF
ISBN-13 (15)
978-3-944675-45-9
Publication date (01)
2016-06-27
doi
10.17169/langsci.b52.182
Details about the available publication format: Bibliography
Publication date (01)
2016-06-27
doi
10.17169/langsci.b52.251
Details about the available publication format: Hardcover
ISBN-13 (15)
978-3-944675-84-8
Details about the available publication format: Softcover
ISBN-13 (15)
978-1-523743-51-3