Forthcoming:

Rarities in phonetics and phonology: Structural, typological, evolutionary, and social dimensions
Synopsis
Rare phenomena play a key role in forming and challenging linguistic theory. This volume presents multi-faceted analyses of rarities in phonetics and phonology, from a wide variety of theoretical standpoints. Some contributions to the volume analyse language-specific rare features, placing them in a broader cross-linguistic context and looking at a sum of their phonological, phonetic, and evolutionary properties, at times also making connections to sociolinguistic factors. Others consider the same (or similar) phenomena from different analytical angles, with extensive cross-referencing, or take a broad analytical or typological stance towards rare phenomena and discuss what it means to be rare.
The volume provides a nuanced picture of phonetic and phonological rarities in genealogically diverse languages, mostly lesser-studied, from around the globe. Authors were encouraged to attempt to strike a middle ground between radical exoticisation of the rarities at hand (describing them in idiosyncratic terms) and radical normalisation (underplaying the rarity of the phenomena at hand). Highly theory-specific or technical terminology is avoided or explained carefully, in order to make the book maximally accessible for a wide typologically-minded audience.
Chapters
Part I: Introduction

Rarities in phonetics and phonology

Why the search for rarities must take phonology seriously

Part II: Rare sound changes

*b > -k-: a Berawan sound change for the ages

Linguistically motivated sound change: revisiting some of the world's rarest wonders

Consonant epenthesis in Meto: Typologically rare but diachronically explicable

Reconciling the debate about final obstruent voicing: the phonology of Lakota obstruent lenition

Part III: Rare prosodic phenomena

Typology and evolution of minimal vowel systems in Central Chadic (Afroasiatic)

A model of non-modal phonation: ballisticity in Otomanguean languages

A tonological rarity: Tone-driven epenthesis in Ghomala'

Part IV: Rare vowels

The contradictory nature of fricative vowels in Chinese and beyond

Uvularization in Queyu phonology

Part V: Rare consonants

Silent sonorant articulations in Mehri and Shehret

Aerodynamic and acoustic correlates of word-initial voiceless nasal geminates of Ikema Miyako Ryukyuan

Preservation and loss of a rare contrast: Palatalization of rhotics in Slavic

Ejective fricatives in Upper Necaxa Totonac: Complex segments or consonant clusters?

Part VI: Preaspiration

On the rarity of pre-aspirated consonants

Weighing preaspiration

Pre-aspiration in Ecuadorian Siona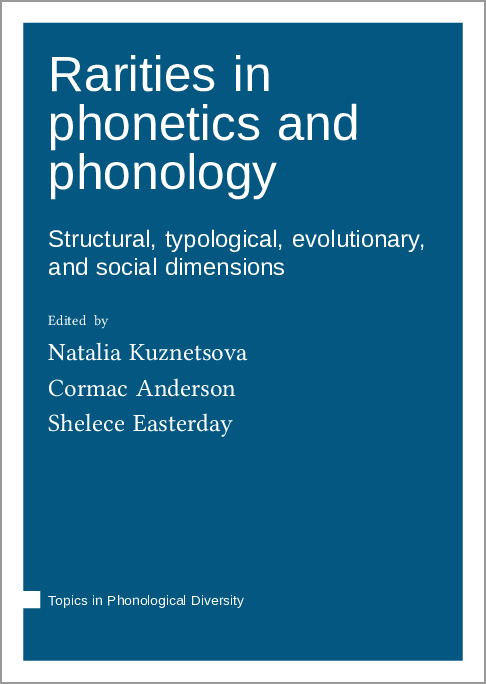 Cite as
Kuznetsova, Natalia, Anderson, Cormac & Easterday, Shelece (eds.). Forthcoming. Rarities in phonetics and phonology: Structural, typological, evolutionary, and social dimensions. (Topics in Phonological Diversity). Berlin: Language Science Press.
Copyright (c) 2023 Natalia Kuznetsova, Shelece Easterday; Pavel Iosad; Cormac Anderson; Robert Blust, Juliette Blevins, Kirsten Culhane, Geoffrey Schwartz, Shanti Ulfsbjorninn, Shanti Ulfsbjorninn, H. Ekkehard Wolff, Bien Do Bui, Nicholas Rolle, Thom van Hugte, Yiya Chen, Li Guo, Xuan Guan, Janet C. E. Watson, Gisela Tomé Lourido, Amer al-Kathiri, Abdullah al-Mahri, Ikema Miyako Ryukyuan, Shigeko Shinohara, Qandeel Hussain, Angélique Amelot, Darya Kavitskaya, Florian Wandl, Rebekka Puderbaugh, Michaela Hejná, Radu Craioveanu, Martine Bruil, Oleksandra Damonte-Matveienko, Marijn van't Veer
License
This work is licensed under a Creative Commons Attribution 4.0 International License.