Forthcoming:

Elementa universalis linguae Slavicae : Translated with commentary and introductory essays by Raf Van Rooy and Alexander Maxwell
Synopsis
In 1826, as nationalism first began percolating through the Habsburg lands, Ján Herkel published a Latin-language Slavic grammar. Herkel, a lawyer and amateur linguist, came from the northern counties the Kingdom of Hungary which now form the Slovak Republic. Though he was inspired by a romantic love of his native language, Herkel imagined a single "Slavic language," divided into various "dialects." He proposed a single grammar for the whole Slavic world, attempting to encompass and yet restrain the diversity of orthography, morphology, phonology, and so forth found across Slavic varieties. Herkel was also the coiner of the term "panslavism", which he used to describe his efforts. This book provides the first English translation of Herkel's noteworthy grammar, with short notes. The book also contains a preface and explanatory essays by co-translators Raf Van Rooy and Alexander Maxwell. The preface introduces the topic of the book. Maxwell then gives a biography of Herkel, discusses linguistic nationalism in Slavic northern Hungary, and the legacy of panslavism. Van Rooy explores Herkel's key notion of the "genius" of the Slavic language as the legacy of early modern linguistic thought.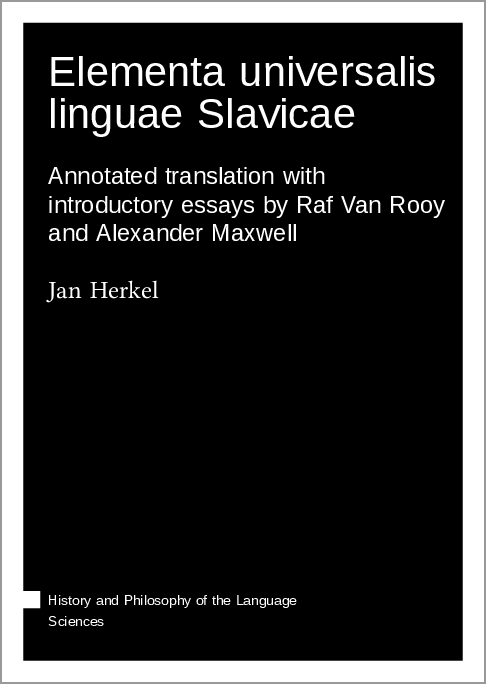 Cite as
Maxwell, Alexander, Van Rooy, Raf & Herkel, Ján. Forthcoming. Elementa universalis linguae Slavicae : Translated with commentary and introductory essays by Raf Van Rooy and Alexander Maxwell . (History and Philosophy of the Language Sciences). Berlin: Language Science Press.
Copyright (c) 2023 Alexander Maxwell, Raf Van Rooy; Ján Herkel
License
This work is licensed under a Creative Commons Attribution 4.0 International License.