Forthcoming:

Formal approaches to complexity in heritage language grammars
Synopsis
This collective volume breaks new ground in studies of linguistic complexity by addressing this phenomenon in heritage languages. It dismisses with the conception that heritage languages are less complex than their baseline or homeland counterparts and shows complexity trade-offs at various levels of linguistic representation. The authors consider defining properties of complexity as a phenomenon, diagnostics of complexity, and the ways complexity is modeled, measured, or operationalized in language sciences. The chapters showcase several bilingual dyads and offer new empirical data on heritage language production and use.
Chapters
Linguistic complexity in heritage languages

An introduction

Expressing diminutive meaning in Twi

The role of complexity and language-specific preferences

How different types of complexity can account for difficult structures in bilingual and monolingual language acquisition

The complexity of word order change in a flexible system

On stability and variation in heritage Russian word order

Expanding structures while reducing mappings

Morphosyntactic complexity in agglutinating heritage languages

A multi-generational analysis of heritage language complexity

Non-monotonic functional sequences

A new metric for complexity in heritage languages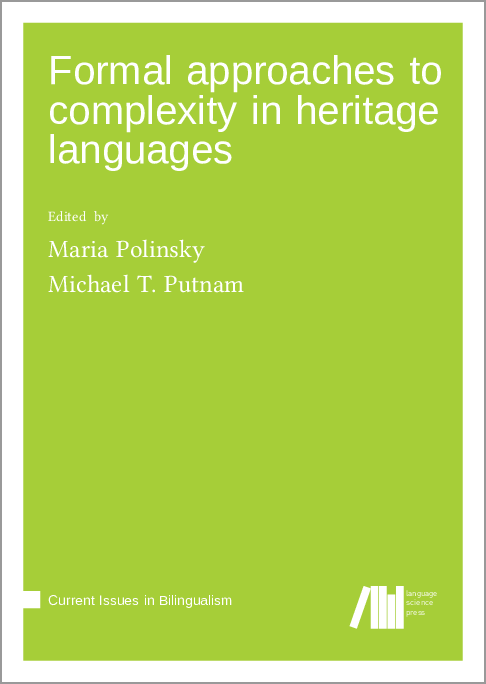 Cite as
Polinsky, Maria & Putnam, Michael T. (eds.). Forthcoming. Formal approaches to complexity in heritage language grammars. (Current Issues in Bilingualism). Berlin: Language Science Press.
Copyright (c) 2023 Maria Polinsky, Michael T. Putnam; Felix Kpogo, Joe Salmons, Alexandra Elizabeth Kohut, Charles Chang, Esther Rinke, Cristina Flores, Jacopo Torregrossa, Oksana Laleko, Terje Lohndal, Ashvini Varatharaj, Gregory Scontras, Naomi Nagy, Roberta D'Alessandro, Silvia Terenghi
License
This work is licensed under a Creative Commons Attribution 4.0 International License.