Prosodic boundary phenomena
Synopsis
In spoken language comprehension, the hearer is faced with a more or less continuous stream of auditory information. Prosodic cues, such as pitch movement, pre-boundary lengthening, and pauses, incrementally help to organize the incoming stream of information into prosodic phrases, which often coincide with syntactic units. Prosody is hence central to spoken language comprehension and some models assume that the speaker produces prosody in a consistent and hierarchical fashion. While there is manifold empirical evidence that prosodic boundary cues are reliably and robustly produced and effectively guide spoken sentence comprehension across different populations and languages, the underlying mechanisms and the nature of the prosody-syntax interface still have not been identified sufficiently. This is also reflected in the fact that most models on sentence processing completely lack prosodic information.
This edited book volume is grounded in a workshop that was held in 2021 at the annual conference of the Deutsche Gesellschaft für Sprachwissenschaft (DGfS). The five chapters cover selected topics on the production and comprehension of prosodic cues in various populations and languages, all focusing in particular on processing of prosody at structurally relevant prosodic boundaries. Specifically, the book comprises cross-linguistic evidence as well as evidence from non-native listeners, infants, adults, and elderly speakers, highlighting the important role of prosody in both language production and comprehension.
Chapters
The patterns of pre-boundary lengthening in German

Segmental cues to IP-initial boundaries

Data from English, Spanish, and Portuguese

Chunking an unfamiliar language

Results from a perception study of German listeners

Developmental changes in prosodic boundary cue perception in German-learning infants

Age effects on linguistic prosody in coordinates produced to varying interlocutors

Comparison of younger and older speakers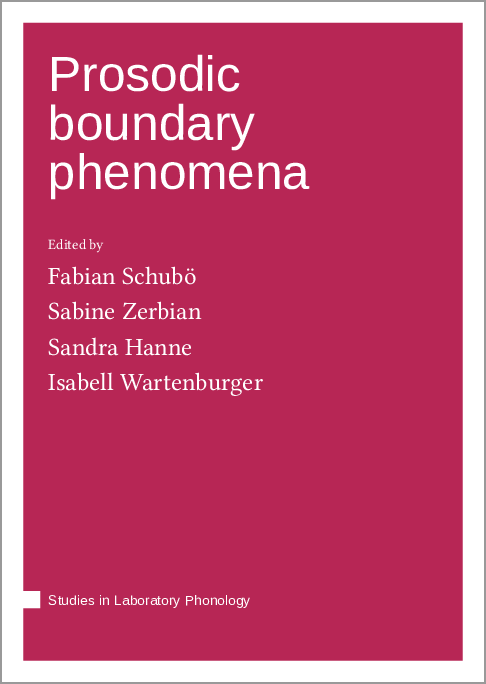 Downloads
Cite as
Schubö, Fabian, Zerbian, Sabine, Hanne, Sandra & Wartenburger, Isabell (eds.). 2023. Prosodic boundary phenomena. (Studies in Laboratory Phonology 12). Berlin: Language Science Press. DOI: 10.5281/zenodo.7777469
Copyright (c) 2023 Fabian Schubö, Sabine Zerbian, Sandra Hanne, Isabell Wartenburger; Ricardo Napoleão de Souza, Nele Ots, Piia Taremaa, Caroline Wellmann, Julia Holzgrefe-Lang, Hubert Truckenbrodt, Barbara Höhle, Clara Huttenlauch, Marie Hansen, Carola de Beer
License
This work is licensed under a Creative Commons Attribution 4.0 International License.
Details about the available publication format: PDF
ISBN-13 (15)
978-3-96110-409-3
doi
10.5281/zenodo.7777469
Details about the available publication format: Hardcover
ISBN-13 (15)
978-3-98554-067-9
Physical Dimensions
180mm x 245mm