A grammar of Ulwa (Papua New Guinea)
Synopsis
This book is a grammatical description of Ulwa, a Papuan language spoken by about 600 people living in four villages in the East Sepik Province of Papua New Guinea. Ulwa belongs to the Keram language family. This grammatical description is based on a corpus of recorded texts and elicited sentences that were collected during a total of about twelve months of research carried out between 2015 and 2018. The book aims to detail as many aspects of Ulwa grammar as possible, including matters of phonology, morphology, and syntax. It also contains a lexicon with over 1,400 entries and three fully glossed and translated texts. The book was written with a typologically oriented audience in mind, and should be of interest to Papuan specialists as well as to general linguists. It may be useful to those working on the history or classification of Papuan languages as well as those conducting typological research on any number of grammatical features.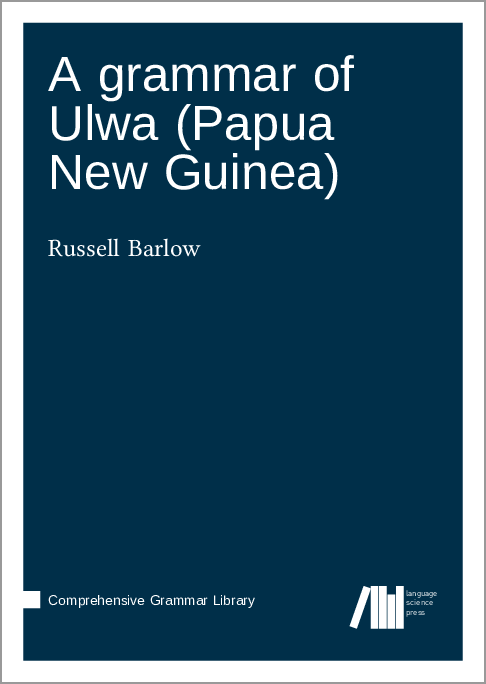 Downloads
Cite as
Barlow, Russell. 2023. A grammar of Ulwa (Papua New Guinea). (Comprehensive Grammar Library 6). Berlin: Language Science Press. DOI: 10.5281/zenodo.8094859
Copyright (c) 2022 Russell Barlow
License
This work is licensed under a Creative Commons Attribution 4.0 International License.
Details about the available publication format: PDF
ISBN-13 (15)
978-3-96110-415-4
doi
10.5281/zenodo.8094859
Details about the available publication format: Bibliography
ISBN-13 (15)
978-3-98554-073-0
Details about the available publication format: Hardcover
ISBN-13 (15)
978-3-98554-073-0
Physical Dimensions
180mm x 245mm