Complementizers on edge: On the boundaries between syntax and pragmatics in Ibero-Romance
Synopsis
This book offers a comparative perspective on the structural and interpretive properties of root-clause complementizers in Ibero-Romance. The driving question the author seeks to answer is where the boundaries between syntax and pragmatics lie in these languages. Contrary to most previous work on these phenomena, the author argues in favor of a relatively strict distribution of labor between the two components of grammar. The first part of the book is devoted to root complementizers with a reportative interpretation. The second part deals with root complementizers and commitment attribution. Finally, the last part presents the results of empirical studies on the topic.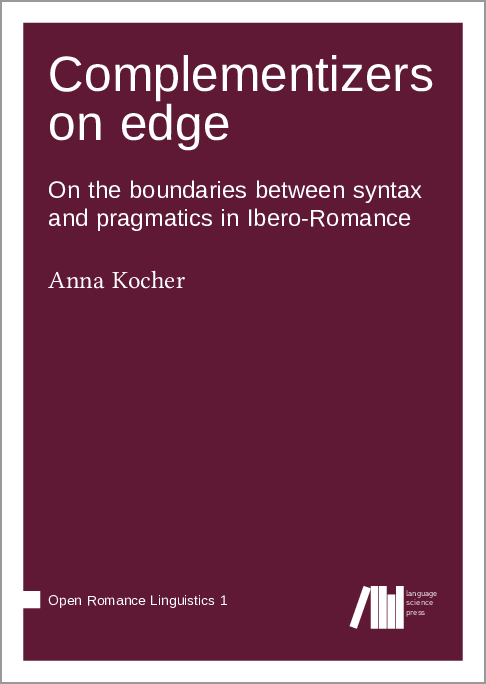 Downloads
Cite as
Kocher, Anna. 2022. Complementizers on edge: On the boundaries between syntax and pragmatics in Ibero-Romance. (Open Romance Linguistics 1). Berlin: Language Science Press. DOI: 10.5281/zenodo.6907848
Copyright (c) 2022 Anna Kocher
License
This work is licensed under a Creative Commons Attribution 4.0 International License.
Details about the available publication format: PDF
ISBN-13 (15)
978-3-96110-391-1
doi
10.5281/zenodo.6907848
Details about the available publication format: Hardcover
ISBN-13 (15)
978-3-98554-049-5
Physical Dimensions
180mm x 245mm