Forthcoming:

The size of things II: Movement, features, and interpretation
Synopsis
This book focuses on the role size plays in grammar. Under the umbrella term size fall the size of syntactic projections, the size of feature content, and the size of reference sets. This Volume II discusses size effects in movement, agreement, and interpretation while the contributions in Volume I focus on size and structure building.
Part I of Volume II investigates how size interacts with head movement and various phrasal movement including left branch extraction, object shift, tough movement, and multiple wh movement.
Part II of this volume discusses the role size plays in agreement and morphology-related matters like allomorphy.
Contributions in Part III focus on semantic-oriented issues, in particular the size of reference domains and NPI licensing.
The languages covered in this volume include American Sign Language, Bosnian-Croatian-Serbian and various Slavic languages, German, Icelandic, dialects of Italian, Japanese, Nancowry, Panoan languages, and Tamil.
Chapters
Size of the Moving Element Matters

LBE is not Scattered Deletion

Size of Op in Tough-Constructions

Object shift in ASL and Libras

Only the tall and the small

Size restrictions on Icelandic possessors

Heads first

the rest will follow

What moves where?

A typological-syntactic approach to multiple wh-questions

How strict should Cartography be?

A view from Slavic

On the size of same subject complements in two Panoan languages

Singular -st syncretism and featural pied-piping

The morphosyntax of andative forms in the Campiota vernacular

The synthetic behavior of restructuring roots

When size matters in infix allomorphy

A unique window into the morphology-phonology interface

Tamil pronominal alternations are phonology not allomorphy

Partial control and plural predication

If size ever matters, let's compare

Domain Size Matters

An Exceptive that Forms Strong NPIs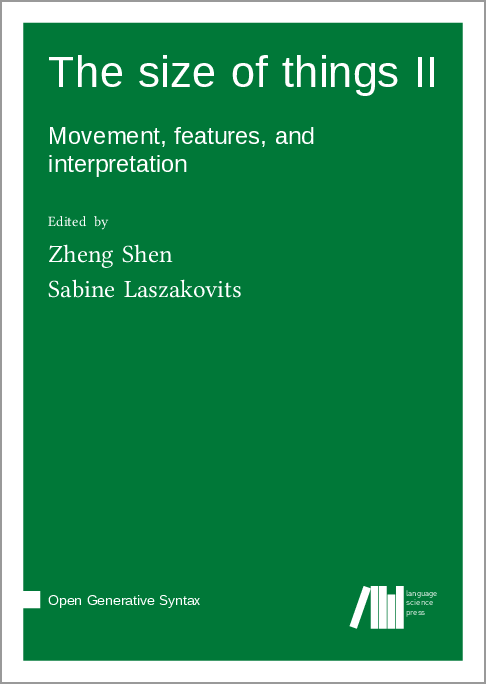 Cite as
Shen, Zheng & Laszakovits, Sabine (eds.). Forthcoming. The size of things II: Movement, features, and interpretation. (Open Generative Syntax). Berlin: Language Science Press.
Copyright (c) 2022 Zheng Shen, Sabine Laszakovits
License
This work is licensed under a Creative Commons Attribution 4.0 International License.