A dictionary and grammatical sketch of Ruruuli-Lunyala
Keywords:
Ruruuli language, dictionary, grammatical description, Uganda
Synopsis
This book is a dictionary and grammar sketch of Ruruuli-Lunyala, a Great Lakes Bantu language spoken by over 200,000 people in central Uganda. The dictionary part includes about 10,000 entries. Each lexical entry provides translations into English, example sentences, and basic grammatical information. The dictionary part is supplemented with an outline of the Ruruuli-Lunyala grammar, which treats most of the phonological and morpho-syntactic topics. This book is a result of a joined effort of a large team of linguists and many speakers of Ruruuli-Lunyala and is intended as a resource for linguists and Ruruuli-Lunyala speakers, learners, and educators.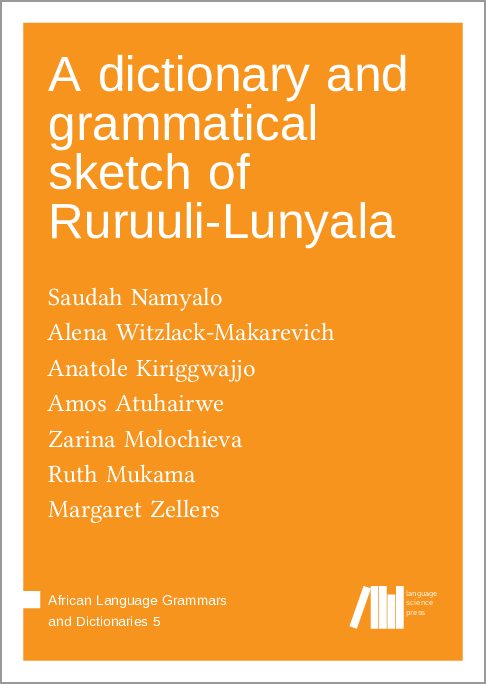 Downloads
Cite as
Namyalo, Saudah, Witzlack-Makarevich, Alena, Kiriggwajjo, Anatole, Atuhairwe, Amos, Molochieva, Zarina, Mukama, Ruth Gimbo & Zellers, Margaret. 2021. A dictionary and grammatical sketch of Ruruuli-Lunyala. (African Language Grammars and Dictionaries 5). Berlin: Language Science Press. DOI: 10.5281/zenodo.5548947
Copyright (c) 2021 Alena Witzlack-Makarevich, Saudah Namyalo, Anatole Kiriggwajjo, Amos Atuhairwe, Zarina Molochieva, Ruth Gimbo Mukama, Margaret Zellers
License
This work is licensed under a Creative Commons Attribution 4.0 International License.
Details about the available publication format: PDF
ISBN-13 (15)
978-3-96110-329-4
doi
10.5281/zenodo.5548947
Details about the available publication format: Hardcover
ISBN-13 (15)
978-3-98554-025-9