A grammar of Tuatschin: A Sursilvan Romansh dialect
Synopsis
This book is the first descriptive grammar of Tuatschin, a Sursilvan Romansh dialect spoken by approximately 800 people in the westernmost part of the Romansh territory, in the canton of Grisons in southeastern Switzerland. The description is mainly based on narratives and elicitation, collected during fieldwork conducted between 2016 and 2020. Besides the grammatical description, it also offers a variety of narratives produced by female and male native speakers between thirty and eighty years of age.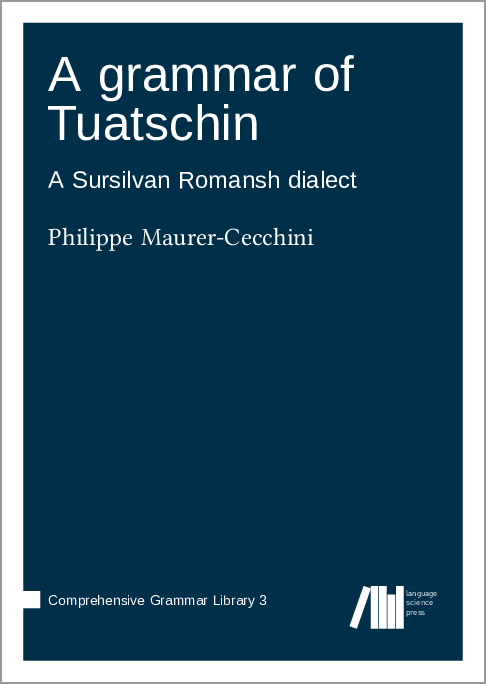 Downloads
Cite as
Maurer-Cecchini, Philippe. 2021. A grammar of Tuatschin: A Sursilvan Romansh dialect. (Comprehensive Grammar Library 3). Berlin: Language Science Press. DOI: 10.5281/zenodo.5137647
Copyright (c) 2021 Philippe Maurer-Cecchini (Author)
License
This work is licensed under a Creative Commons Attribution 4.0 International License.
Details about the available publication format: PDF
ISBN-13 (15)
978-3-96110-318-8
doi
10.5281/zenodo.5137647
Details about the available publication format: Hardcover
ISBN-13 (15)
978-3-98554-014-3