On a law of Indo-European word order: Über ein Gesetz der indogermanischen Wortstellung
Synopsis
Jacob Wackernagel's 1892 essay on second-position enclitics in the Indo-European languages has long been hailed as groundbreaking in both historical and theoretical linguistics. Until now, however, it has only been available in the original German. This book provides a full translation into English, including glossed and translated examples from several early Indo-European languages and varieties and full bibliographical details of the references drawn upon, as well as a new edition of the German original. It should be of interest to researchers in historical and Indo-European linguistics and in general linguistics working on the interfaces between morphology, prosody and syntax.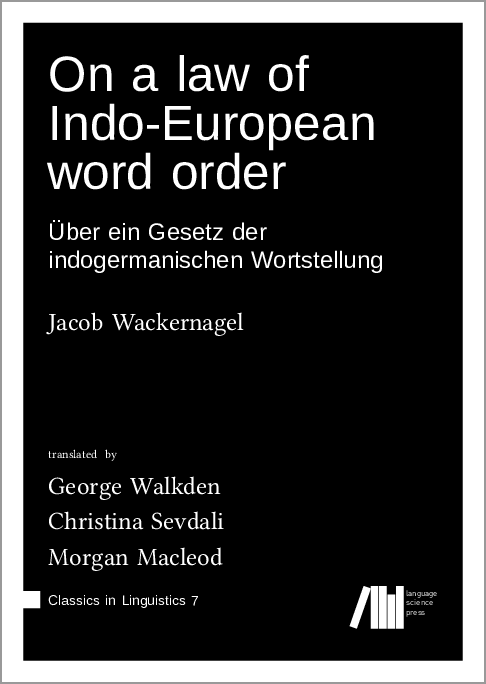 Downloads
Cite as
Wackernagel, Jacob, Walkden, George, Sevdali, Christina & Macleod, Morgan. 2020. On a law of Indo-European word order: Über ein Gesetz der indogermanischen Wortstellung. (Classics in Linguistics 7). Berlin: Language Science Press. DOI: 10.5281/zenodo.3978908
Copyright (c) 2020 Language Science Press
License
This work is licensed under a Creative Commons Attribution 4.0 International License.
Details about the available publication format: PDF
ISBN-13 (15)
978-3-96110-271-6
Publication date (01)
2020-09-04
doi
10.5281/zenodo.3978908
Details about the available publication format: Hardcover
ISBN-13 (15)
978-3-96110-272-3