Head-Driven Phrase Structure Grammar: The handbook
Synopsis
Head-Driven Phrase Structure Grammar (HPSG) is a constraint-based or declarative approach to linguistic knowledge, which analyses all descriptive levels (phonology, morphology, syntax, semantics, pragmatics) with feature value pairs, structure sharing, and relational constraints. In syntax it assumes that expressions have a single relatively simple constituent structure. This volume provides a state-of-the-art introduction to the framework. Various chapters discuss basic assumptions and formal foundations, describe the evolution of the framework, and go into the details of the main syntactic phenomena. Further chapters are devoted to non-syntactic levels of description. The book also considers related fields and research areas (gesture, sign languages, computational linguistics) and includes chapters comparing HPSG with other frameworks (Lexical Functional Grammar, Categorial Grammar, Construction Grammar, Dependency Grammar, and Minimalism).  

 
Chapters
Basic properties and elements

The evolution of HPSG

Formal background

The nature and role of the lexicon in HPSG

HPSG in understudied languages

Agreement

Case

Nominal structures

Argument structure and linking

Constituent order

Complex predicates

Control and raising

Unbounded dependencies

Relative Clauses in HPSG

Island phenomena and related matters

Coordination

Idioms

Negation

Ellipsis

Anaphoric binding

Morphology

Semantics

Information structure

Processing

Computational linguistics and grammar engineering

Grammar in dialogue

Gesture

HPSG and Minimalism

HPSG and Categorial Grammar

HPSG and Lexical Functional Grammar

HPSG and Dependency Grammar

HPSG and Construction Grammar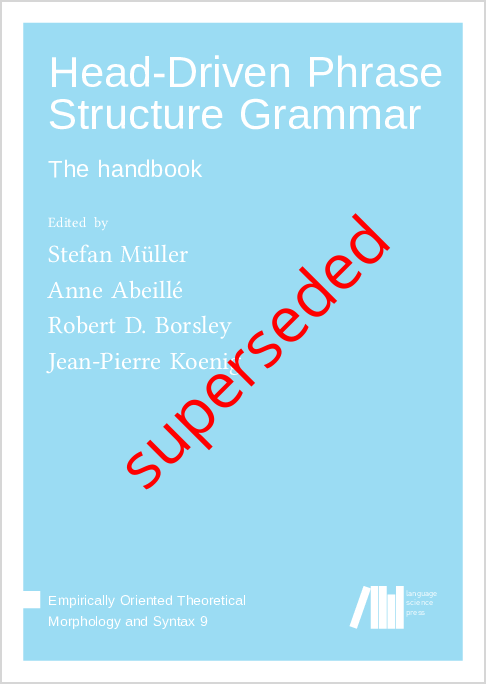 Downloads
Cite as
Müller, Stefan, Abeillé, Anne, Borsley, Robert D. & Koenig, Jean-Pierre (eds.). 2021. Head-Driven Phrase Structure Grammar: The handbook. (Empirically Oriented Theoretical Morphology and Syntax 9). Berlin: Language Science Press. DOI: 10.5281/zenodo.5543318
Copyright (c) 2019 Language Science Press
License
This work is licensed under a Creative Commons Attribution 4.0 International License.
Details about the available publication format: PDF
ISBN-13 (15)
978-3-96110-255-6
doi
10.5281/zenodo.5543318
Details about the available publication format: Hardcover
ISBN-13 (15)
978-3-98554-999-3