Dative constructions in Romance and beyond
Synopsis
This book offers a comprehensive account of dative structures across languages –with an important, though not exclusive, focus on the Romance family. As is well-known, datives play a central role in a variety of structures, ranging from ditransitive constructions to cliticization of indirect objects and differentially marked direct objects, and including also psychological predicates, possessor or causative constructions, among many others. As interest in all these topics has increased significantly over the past three decades, this volume provides an overdue update on the state of the art. Accordingly, the chapters in this volume account for both widely discussed patterns of dative constructions as well as those that are relatively unknown.
Chapters
Dative constructions across languages: An introduction

Datives as applicatives

The puzzle of Russian ditransitives

Ditransitive constructions

what sets Brazilian Portuguese apart from other Romance languages?

Putting objects in order

Asymmetrical relations in Spanish and Portuguese ditransitives

Ditransitive constructions with DOM-ed direct objects in Romanian

The Romance Person Case Constraint is not about clitic clusters

Aspectual datives (and instrumentals)

The modal side of the dative

From predicative possession to possessive modality

Datives and stativity in psych predicates

The lexical underspecification of Bantu causatives and applicatives

When the applicative needs the antipassive

Dative objects with novel verbs in Icelandic

Microvariation in dative-marking in the Romance and Greek varieties of Southern Italy

Romance a-phrases and their clitic counterparts

Agreement and mismatches

The accusative/dative alternation in Catalan verbs with Experiencer object

Ways of being a dative across Romance varieties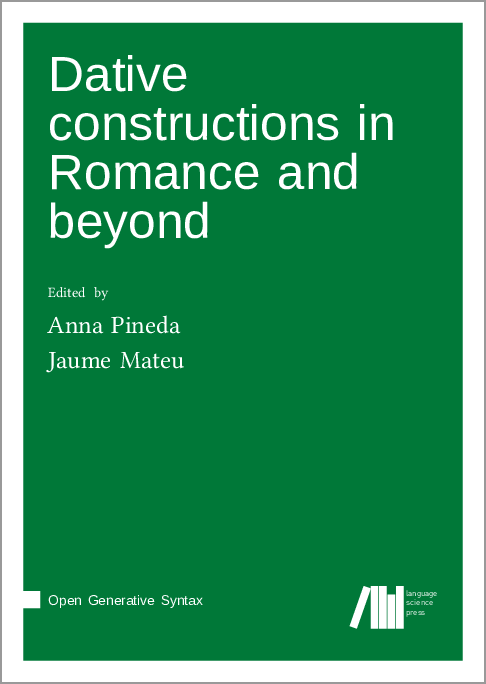 Downloads
Cite as
Pineda, Anna & Mateu, Jaume (eds.). 2020. Dative constructions in Romance and beyond. (Open Generative Syntax 7). Berlin: Language Science Press. DOI: 10.5281/zenodo.3744254
Copyright (c) 2020 Language Science Press
License
This work is licensed under a Creative Commons Attribution 4.0 International License.
Details about the available publication format: PDF
ISBN-13 (15)
978-3-96110-249-5
Publication date (01)
2020-05-28
doi
10.5281/zenodo.3744254
Details about the available publication format: Hardcover
ISBN-13 (15)
978-3-96110-250-1