Agree to Agree: Agreement in the Minimalist Programme
Synopsis
Agreement is a pervasive phenomenon across natural languages. Depending on one's definition of what constitutes agreement, it is either found in virtually every natural language that we know of, or it is at least found in a great many. Either way, it seems to be a core part of the system that underpins our syntactic  knowledge. Since the introduction of the operation of Agree in Chomsky (2000), agreement phenomena and the mechanism that underlies agreement have garnered a lot of attention in the Minimalist literature and have received different theoretical treatments at different stages. Since then, many different phenomena  involving dependencies between elements in syntax, including movement or not, have been accounted for using Agree. The mechanism of Agree thus provides a powerful tool to model dependencies between syntactic elements far beyond φ-feature agreement. The articles collected in this volume further explore these topics  and contribute to the ongoing debates surrounding agreement. The authors gathered in this book are internationally reknown experts in the field of Agreement.
Chapters
Some remarks on agreement within the Minimalist Programme

Labeling, selection, and feature checking

Concord and labeling

Object agreement and grammatical functions

A re-evaluation

Opacity in agreement

Distributed agreement in participial sandwiched configurations

The AWSOM correlation in comparative Bantu object marking

Agreement across the board

Topic agreement in Ripano

Long distance agreement and information structure

Long distance agreement and locality

A reprojection approach

Agree probes down

Anaphoric feature valuation and phase reference

The morphosyntax of allocutive agreement in Tamil

Distinct featural classes of anaphor in an enriched person system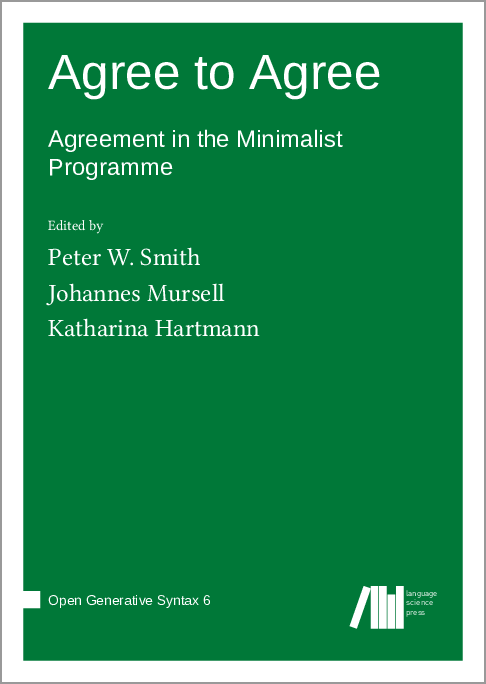 Downloads
Cite as
Smith, Peter W., Mursell, Johannes & Hartmann, Katharina (eds.). 2020. Agree to Agree: Agreement in the Minimalist Programme. (Open Generative Syntax 6). Berlin: Language Science Press. DOI: 10.5281/zenodo.3528036
Copyright (c) 2019 Language Science Press
License
This work is licensed under a Creative Commons Attribution 4.0 International License.
Details about the available publication format: PDF
ISBN-13 (15)
978-3-96110-214-3
doi
10.5281/zenodo.3528036
Details about the available publication format: Hardcover
ISBN-13 (15)
978-3-96110-215-0