Bridging constructions
Synopsis
Many descriptive grammars report the use of a linguistic pattern at the interface between discourse and syntax which is known generally as tail-head linkage. This volume takes an unprecedented look at this type of linkage across languages and shows that there exist three distinct variants, all subsumed under the hypernym bridging constructions. The chapters highlight the defining features of these constructions in the grammar and their functional properties in discourse. The volume reveals that:
Bridging constructions consist of two clauses: a reference clause and a bridging clause. Across languages, bridging clauses can be subordinated clauses, reduced main clauses, or main clauses with continuation prosody.
Bridging constructions have three variants: recapitulative linkage, summary linkage and mixed linkage. They differ in the formal makeup of the bridging clause.
In discourse, the functions that bridging constructions fulfil depend on the text genres in which they appear and their position in the text.
If a language uses more than one type of bridging construction, then each type has a distinct discourse function.
Bridging constructions can be optional and purely stylistic or mandatory and serve a grammatical purpose.
Although the difference between bridging constructions and clause repetition can be subtle, they maintain their own distinctive characteristics.
Chapters
Bridging constructions in typological perspective

The poetics of recapitulative linkage in Matsigenka and mixed Matsigenka-Spanish myth narrations

Short, finite and one-sided bridges in Logoori

Bridging constructions in Tsezic languages

Bridging constructions in narrative texts in White Hmong (Hmong-Mien)

The form and function of bridging constructions in Eibela discourse

Online and offline bridging constructions in Korowai

Recapitulative linkage in Mavea

Clause repetition as a tying technique in Greek conversation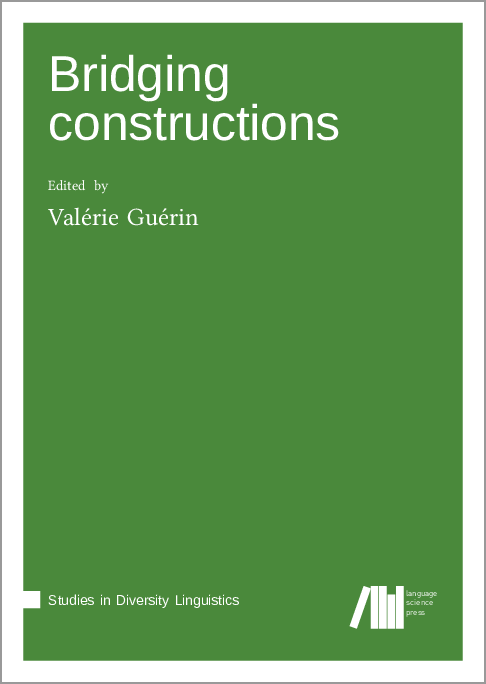 Cite as
Guérin, Valérie. 2018. Bridging constructions. (Studies in Diversity Linguistics 24). Berlin: Language Science Press. DOI: 10.5281/zenodo.2563698
Copyright (c) 2018 Language Science Press
License
This work is licensed under a Creative Commons Attribution 4.0 International License.
Details about the available publication format: PDF
ISBN-13 (15)
978-3-96110-141-2
Publication date (01)
2019-03-14
doi
10.5281/zenodo.2563698
Details about the available publication format: Hardcover
ISBN-13 (15)
978-3-96110-142-9