Agreement, case and locality in the nominal and verbal domains
Synopsis
This book explores the Agree operation and its morphological realisations (agreement and case), specifically focusing on the connection between Agree and other syntactic dependencies such as movement, binding and control. The chapters in this volume examine a diverse set of cross-linguistic phenomena involving agreement and case from a variety of theoretical perspectives, with a view to elucidating the nature of the abstract operations that underlie them. The phenomena discussed include backward control, passivisation, progressive aspectual constructions, extraction from nominals, possessives, relative clauses and the phasal status of PPs.
Chapters
Introduction

Default person versus default number in agreement

An asymmetry in backward control

Subject vs. object control

Long distance agreement in Spanish dialects

On the Person Constraint on Romanian se-passives

Subject-verb agreement with Genitive of Quantification in Polish co and który object relative clauses

A person split analysis of the progressive forms in Barese

Suffixaufnahme, oblique case and Agree

A diagnostic for backward object control in Brazilian Portuguese

Extraction from DP in French

A Minimalist approach

Null possessives in European Portuguese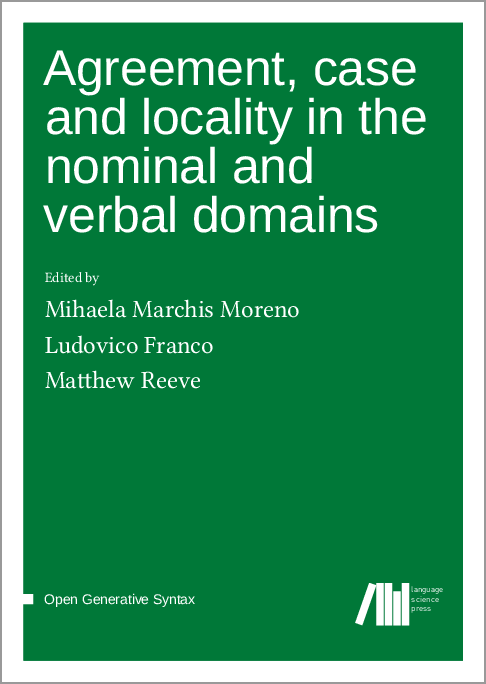 Downloads
Cite as
Franco, Ludovico, Marchis Moreno, Mihaela & Reeve, Matthew (eds.). 2019. Agreement, case and locality in the nominal and verbal domains. (Open Generative Syntax 4). Berlin: Language Science Press. DOI: 10.5281/zenodo.2640704
Copyright (c) 2019 Language Science Press
License
This work is licensed under a Creative Commons Attribution 4.0 International License.
Details about the available publication format: PDF
ISBN-13 (15)
978-3-96110-200-6
Publication date (01)
2019-11-14
doi
10.5281/zenodo.2640704
Details about the available publication format: Hardcover
ISBN-13 (15)
978-3-96110-201-3