Representation and parsing of multiword expressions: Current trends
Synopsis
This book consists of contributions related to the definition, representation and parsing of MWEs. These reflect current trends in the representation and processing of MWEs. They cover various categories of MWEs such as verbal, adverbial and nominal MWEs, various linguistic frameworks (e.g. tree-based and unification-based grammars), various languages including English, French, Modern Greek, Hebrew, Norwegian), and various applications (namely MWE detection, parsing, automatic translation) using both symbolic and statistical approaches.
Chapters
Preface

Lexical encoding formats for multi-word expressions: The challenge of "irregular" regularities

Verbal MWEs: Idiomaticity and flexibility

Multiword expressions in an LFG grammar for Norwegian

Issues in parsing MWEs in an LFG/XLE framework

Multi-word expressions in multilingual applications within the Grammatical Framework

Statistical MWE-aware parsing

Investigating the effect of automatic MWE recognition on CCG parsing

Multilingual parsing and MWE detection

Extracting and aligning multiword expressions from parallel corpora

Cross-lingual linking of multi-word entities and language-dependent learning of multi-word entity patterns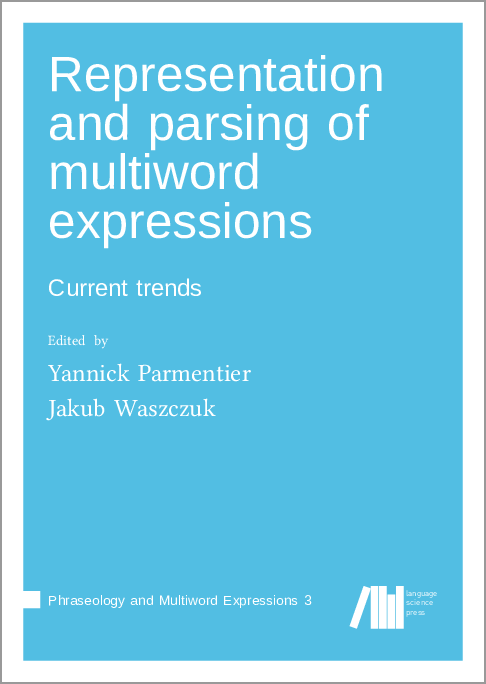 Downloads
Cite as
Parmentier, Yannick & Waszczuk, Jakub (eds.). 2019. Representation and parsing of multiword expressions: Current trends. (Phraseology and Multiword Expressions 3). Berlin: Language Science Press. DOI: 10.5281/zenodo.2579017
Copyright (c) 2018 Language Science Press
License
This work is licensed under a Creative Commons Attribution 4.0 International License.
Details about the available publication format: PDF
ISBN-13 (15)
978-3-96110-145-0
Publication date (01)
2019-06-21
doi
10.5281/zenodo.2579017
Details about the available publication format: Hardcover
ISBN-13 (15)
978-3-96110-146-7