Deletion phenomena in comparative constructions: English comparatives in a cross-linguistic perspective
Synopsis
This book provides a new analysis for the syntax of comparatives, focusing on various deletion phenomena affecting the subclause. In particular, the proposed account shows that Comparative Deletion is merely a surface phenomenon that can be drawn back to the overtness of the comparative operator and the availability of lower copies of a movement chain, and it is thus subject to both language-internal and cross-linguistic variation. The main focus of the book is on English, yet other languages are also discussed for comparative purposes, with the aim of showing what the idiosyncratic properties of English comparatives are.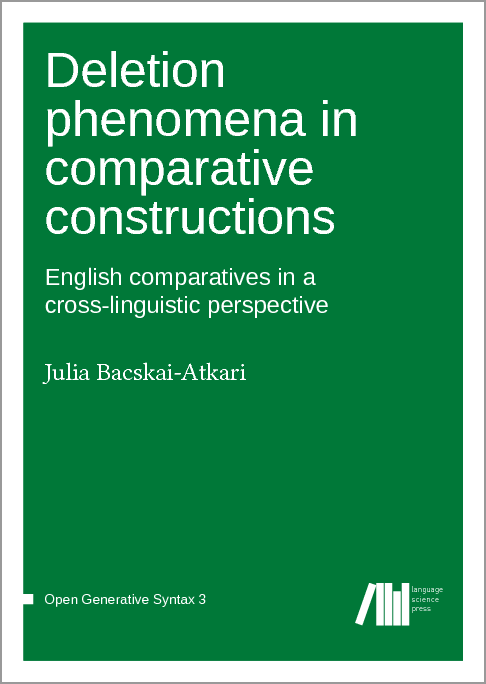 Downloads
Cite as
Bacskai-Atkari, Julia. 2018. Deletion phenomena in comparative constructions: English comparatives in a cross-linguistic perspective. (Open Generative Syntax 3). Berlin: Language Science Press. DOI: 10.5281/zenodo.1211896
Copyright (c) 2018 Julia Bacskai-Atkari
License
This work is licensed under a Creative Commons Attribution 4.0 International License.
Details about the available publication format: PDF
ISBN-13 (15)
978-3-96110-083-5
Publication date (01)
2018-04-22
doi
10.5281/zenodo.1211896
Details about the available publication format: Hardcover
ISBN-13 (15)
978-3-96110-084-2