Theory and description in African Linguistics: Selected papers from the 47th Annual Conference on African Linguistics
Synopsis
The papers in this volume were presented at the 47th Annual Conference on African Linguistics at UC Berkeley in 2016. The papers offer new descriptions of African languages and propose novel theoretical analyses of them. The contributions span topics in phonetics, phonology, syntax, semantics, and pragmatics and reflect the typological and genetic diversity of languages in Africa. Four papers in the volume examine Areal Features and Linguistic Reconstruction in Africa, and were presented at a special workshop on this topic held alongside the general session of ACAL.
Chapters
A featural analysis of mid and downstepped high tone in Babanki

Metrically conditioned vowel length in Dagaare

'Backwards' sibilant palatalization in a variety of Setswana

Liquid realization in Rutooro

Tumbuka prosody: Between tone and stress

Hybrid falling tones in Limbum

Notes on the morphology of Marka (Af-Ashraaf)

Implosives in Bantu A80? The case of Gyeli

Downstep and recursive phonological phrases in Bàsàá (Bantu A43)

Reconsidering tone and melodies in Kikamba

Acoustic correlates of harmony classes in Somali

Prosody & the conjoint/disjoint alternation in Tshivenḓa

Obstacles for gradual place assimilation

The phonetics and phonology of depressor consonants in Gengbe

Factors in the affrication of the ejective alveolar fricative in Tigrinya

Between tone and stress in Hamar

Verbal gestures in Cameroon

Contrastive focus particles in Kusaal

Non-canonical switch-reference in Serer

Upward-oriented complementizer agreement with subjects and objects in Kipsigis

Serial verb nominalization in Akan: the question of intervening elements

Verb and predicate coordination in Ibibio

On the derivation of Swahili amba relative clauses

Evidence for movement

The aorist and the perfect in Mano

Nominal quantification in Kipsigis

Stem modification in Nuer

Negation coding in Ga

On the structure of splitting verbs in Yoruba

Animacy is a presupposition in Swahili

Hausa chat jargon

Semantic extension versus borrowing

Deriving an object dislocation asymmetry in Luganda

A case based account of Bantu IAV-focus

When Northern Swahili met southern Somali

The syntactic diversity of SAuxOV in West Africa

Clicks on the fringes of the Kalahari Basin Area

Central vowels in the Kru language family

Innovation and areal spreading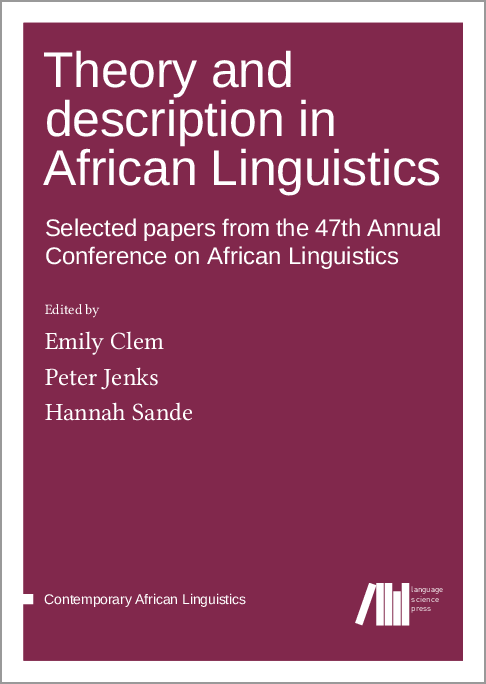 Downloads
Cite as
Clem, Emily, Jenks, Peter & Sande, Hannah (eds.). 2018. Theory and description in African Linguistics: Selected papers from the 47th Annual Conference on African Linguistics. (Contemporary African Linguistics 4). Berlin: Language Science Press. DOI: 10.5281/zenodo.3365789
Copyright (c) 2018 Language Science Press
License
This work is licensed under a Creative Commons Attribution 4.0 International License.
Details about the available publication format: PDF
ISBN-13 (15)
978-3-96110-205-1
Publication date (01)
2019-08-14
doi
10.5281/zenodo.3365789
Details about the available publication format: Softcover
Co-publisher's ISBN-13 (24)
978-3-96110-206-8