Methods in prosody: A Romance language perspective
Synopsis
This book presents a collection of pioneering papers reflecting current methods in prosody research with a focus on Romance languages. The rapid expansion of the field of prosody research in the last decades has given rise to a proliferation of methods that has left little room for the critical assessment of these methods. The aim of this volume is to bridge this gap by embracing original contributions, in which experts in the field assess, reflect, and discuss different methods of data gathering and analysis. The book might thus be of interest to scholars and established researchers as well as to students and young academics who wish to explore the topic of prosody, an expanding and promising area of study.
Chapters
Introduction

Foreword

Using large corpora and computational tools to describe prosody

An exciting challenge for the future with some (important) pending problems to solve

Intonation of pronominal subjects in Porteño Spanish

Analysis of spontaneous speech

Multimodal analyses of audio-visual information

Some methods and issues in prosody research

The realizational coefficient

Devising a method for empirically determining prominent positions in Conchucos Quechua

On the role of prosody in disambiguating wh-exclamatives and wh-interrogatives in Cosenza Italian

The Discourse Completion Task in Romance prosody research

Status quo and outlook

Describing the intonation of speech acts in Brazilian Portuguese:

Methodological aspects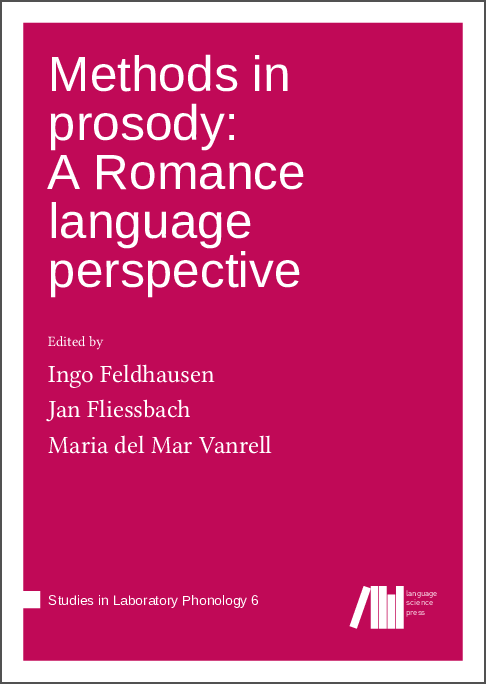 Downloads
Cite as
Feldhausen, Ingo, Fliessbach, Jan & Vanrell, Maria del Mar (eds.). 2018. Methods in prosody: A Romance language perspective. (Studies in Laboratory Phonology 6). Berlin: Language Science Press. DOI: 10.5281/zenodo.1471564
Copyright (c) 2018 Language Science Press
License
This work is licensed under a Creative Commons Attribution 4.0 International License.
Details about the available publication format: PDF
ISBN-13 (15)
978-3-96110-104-7
Publication date (01)
2018-10-20
doi
10.5281/zenodo.1471564
Details about the available publication format: Hardcover
ISBN-13 (15)
978-3-96110-105-4