Information structure in spoken Japanese: Particles, word order, and intonation
Synopsis
This study explores information structure (IS) within the framework of corpus linguistics and functional linguistics. As a case study, it investigates IS phenomena in spoken Japanese: particles including so-called topic particles, case particles, and zero particles; word order; and intonation. The study discusses how these phenomena are related to cognitive and communicative mechanisms of humans.
Reviews
Review on LinguistList by Jeff Peterson published November 9, 2021

[...] The goal of "Information structure in spoken Japanese: Particles, word order, and intonation" is to investigate the relationship between information structure and linguistic forms in spoken Japanese. Overall, I believe it has achieved this goal and serves to help expand knowledge in this field and to provide thought provoking insight into how we can move forward. The chapters of this volume cohere well, presenting a thorough overview of the present state of research in the field and following up with related results and discussion. Because Nakagawa makes an effort to link her findings to other languages and discusses why her findings pop up in multiple languages, the main audience (i.e., linguists interested in information structure, including non-Japanese linguists) will benefit from the expanded understanding this book provides.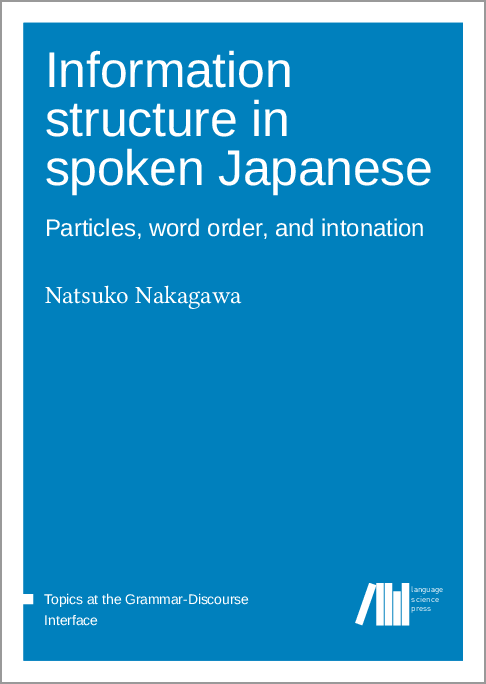 Downloads
Cite as
Nakagawa, Natsuko. 2017. Information structure in spoken Japanese: Particles, word order, and intonation. (Topics at the Grammar-Discourse Interface 8). Berlin: Language Science Press. DOI: 10.5281/zenodo.4291753
Copyright (c) 2017 Language Science Press
License
This work is licensed under a Creative Commons Attribution 4.0 International License.
Details about the available publication format: PDF
ISBN-13 (15)
978-3-96110-138-2
Publication date (01)
2020-12-28
doi
10.5281/zenodo.4291753
Details about the available publication format: Hardcover
ISBN-13 (15)
978-3-96110-139-9