Order and structure in syntax I: Word order and syntactic structure
Synopsis
This book reconsiders the role of order and structure in syntax, focusing on fundamental issues such as word order and grammatical functions. The first group of papers in the collection asks what word order can tell us about syntactic structure, using evidence from V2, object shift, word order gaps and different kinds of movement. The second group of papers all address the issue of subjecthood in some way, and examine how certain subject properties vary across languages: expression of subjects, expletive subjects, quirky and locative subjects. All of the papers address in some way the tension between modelling what can vary across languages whilst improving our understanding of what might be universal to human language.
This book is complemented by Order and structure in syntax II: Subjecthood and argument structure
Chapters
Assertion and factivity

Towards explaining restrictions on Embedded V2 in Scandinavian

An argument against the syntactic nature of verb movement

Feature Inheritance in Old Spanish

(re)visiting V2

Finite sentences in Finnish

Word order, morphology, and information structure

Scandinavian Object Shift is phonology

Mainland Scandinavian object shift and the puzzling ergative pattern in Aleut

Repairing Final-Over-Final Constraint violations

Evidence from Basque verb clusters

Head-initial postpositional phrases in North Sámi

Probing the nature of the Final-over-Final Constraint

The perspective from adpositions

Nuclear stress and the life cycle of operators

Response particles beyond answering

The Common Syntax of Deixis and Affirmation

V2 and cP/CP

Verb Second not Verb Second in Syrian Arabic

Uniqueness of left peripheral focus, "further explanation", and Int.

Swedish Wh-Root-infinitives

A Note on Some Even More Unusual Relative Clauses

Theoretical limits on borrowing through contact; not everything goes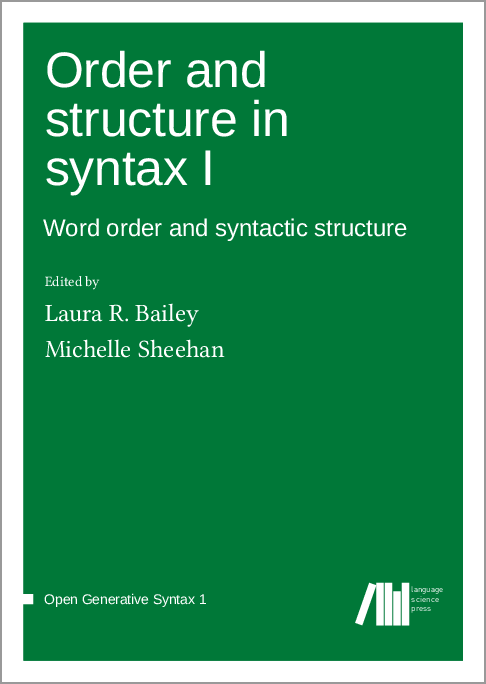 Downloads
Cite as
Bailey, Laura R. & Sheehan, Michelle (eds.). 2017. Order and structure in syntax I: Word order and syntactic structure. (Open Generative Syntax 1). Berlin: Language Science Press. DOI: 10.5281/zenodo.1117686
Copyright (c) 2017 Language Science Press
License
This work is licensed under a Creative Commons Attribution 4.0 International License.
Details about the available publication format: PDF
ISBN-13 (15)
978-3-96110-026-2
Publication date (01)
2017-12-19
doi
10.5281/zenodo.1117686
Details about the available publication format: Hardcover
ISBN-13 (15)
978-3-96110-027-9