Unity and diversity in grammaticalization scenarios
Synopsis
The volume contains a selection of papers originally presented at the symposium on "Areal patterns of grammaticalization and cross-linguistic variation in grammaticalization scenarios" held on 12-14 March 2015 at Johannes Gutenberg University of Mainz. The papers, written by leading scholars combining expertise in historical linguistics and grammaticalization research, study variation in grammaticalization scenarios in a variety of language families (Slavic, Indo-Aryan, Tibeto-Burman, Bantu, Mande, "Khoisan", Siouan, and Mayan). The volume stands out in the vast literature on grammaticalization by focusing on variation in grammaticalization scenarios and areal patterns in grammaticalization. Apart from documenting new grammaticalization paths, the volume makes a methodological contribution as it addresses an important question of how to reconcile universal outcomes of grammaticalization processes with the fact that the input to these processes is language-specific and construction-specific.
Chapters
Back again to the future: How to account for directionality in grammatical change

The origin of comitative adverbs in Japhug

Copulas originating from the imperative of 'see/look' verbs in Mande languages

Multiple argument marking in Bantoid

From syntheticity to analyticity

Grammaticalization of participles and gerunds in Indo-Aryan: Preterite, future, infinitive

Preterite, future, infinitive

On the grammaticalization of demonstratives in Hoocąk und other Siouan languages

Grammaticalization of tense/aspect/mood marking in Yucatec Maya

Diachrony and typology of Slavic aspect

What does morphology tell us?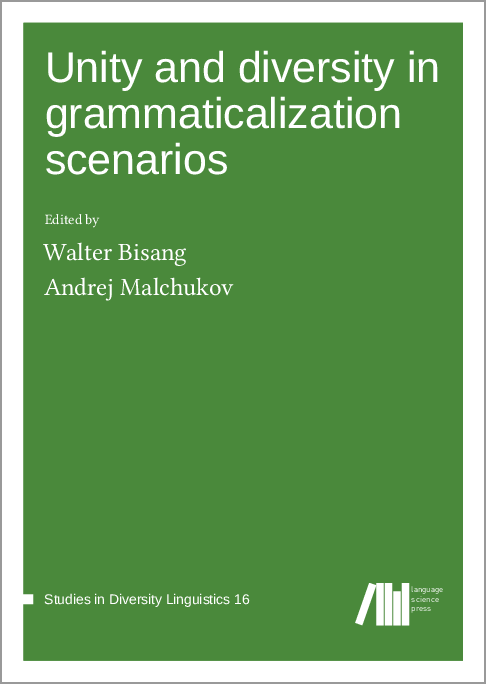 Details about the available publication format: PDF
ISBN-13 (15)
978-3-946234-99-9
ISBN-13 hardcover (28)
978-3-96110-020-0
Publication date (01)
2017-11-14
doi
10.5281/zenodo.823224