Sprachliche Imitation: Jiddisch in der deutschsprachigen Literatur (18.-20. Jahrhundert)
Synopsis
Diese Arbeit beschäftigt sich mit den Strukturen fiktionaler, imitierender Sprache. Am Beispiel detaillierter Analysen der sprachlichen Charakterisierung jüdischer Figuren der deutschsprachigen Literatur des 18., 19. und frühen 20. Jahrhunderts legt die Arbeit offen, welche Strukturen die jiddische Sprachrealität widerspiegeln und welche als Reflexe der (zumeist autoreigenen) Mündlichkeit gelten können. Zugleich stellt die Untersuchung eine umfangreiche grammatische Darstellung des im deutschsprachigen Raum bis ins frühe 20. Jahrhundert hinein verbreiteten Westjiddischen dar, dessen Strukturen sie mit denen deutscher und ostjiddischer Varietäten vergleicht.
This book contains a study on fictional, imitated language. In detailed analyses it shows how Jewish figures were characterized through their language in German fiction (18th until early 20th century). It discloses which structures of this fictional language originate from the Yiddish language and which are reflexes of (the author's) orality. At the same time the study contains a comprehensive description of Western Yiddish and its grammatical structures, which are compared with German and Eastern Yiddish varieties.
German law requires we state the prices in Germany for this publication. The hardcover price is 70.00 EUR; the softcover price is 64.20 EUR.
Reviews
Review on Forward by Prof. Mikhail Krutikov (Univ. of Michigan) published February 14, 2017

שעפֿערס פֿאָרשונג באַהאַנדלט אַ ברײטן קאָרפּוס פֿון דער דײַטשישער ליטעראַטור. אירע אױספֿירן פֿירן צו װײַטערדיקע פֿראַגעס, בפֿרט װעגן דער ליטעראַרישער פֿונקציע פֿונעם "ליטעראַטור־ייִדיש" אין פֿאַרשידענע תּקופֿות בײַ פֿאַרשידענע מחברים. היות װי מערבֿ־ייִדיש האָט ניט איבערגעלאָזט קײן רײַכע ליטעראַרישע ירושה, בלײַבט די דײַטשישע ליטעראַטור אַ װיכטיקער אוצר, װאָס האָט אָפּגעשפּיגלט, כאָטש גאַנץ קרום, דאָס טאָג־טעגלעכע לעבן פֿון ייִדיש־רעדנדיקע דײַטשישע ייִדן
Review in Beiträge zur Geschichte der deutschen Sprache und Literatur by Neil G. Jacobs published March 7, 2018

... ›Sprachliche Imitation: Jiddisch in der deutschsprachigen Literatur (18.–20. Jahrhundert)‹ is a meticulously researched, well‐constructed, ambitious, and valuable work. It provides significant contributions to several fields, and opens doors to new paths of research.
Rezension in Zeitschrift für Dialektologie und Linguistik, 2018 Heft 1. by Gertrud Reershemius published August 14, 2019

... Schäfers Analyse von literaturjiddischen Texten ist daher auch ein wichtiger Beitrag zur soziolinguistischen Debatte über Sprachveränderungsprozesse, die gegebenenfalls zum Erscheinen von sogenannten successor lects führen können, vor allem wenn man berücksichtigt, dass die Unterschiede bei der Merkmalsauswahl und Gestaltung zwischen den von jüdischen und nicht-jüdischen Autoren verfassten Texten der untersuchten Korpora vergleichsweise wenige Unterschiede gezeigt haben.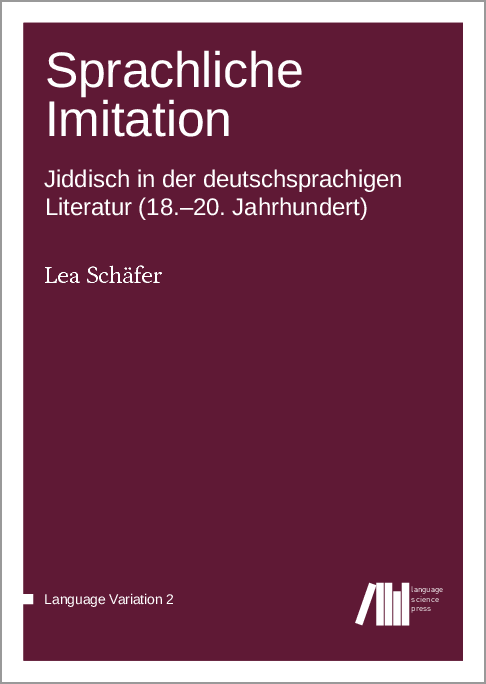 Downloads
Details about the available publication format: PDF
ISBN-13 (15)
978-3-946234-78-4
Publication date (01)
2017-01-16
doi
10.17169/langsci.b116.259