Gemination and degemination in English affixation: Investigating the interplay between morphology, phonology and phonetics
Synopsis
In English, phonological double consonants only occur across morphological boundaries, for example, in affixation (e.g. in unnatural, innumerous). There are two possibilities for the phonetic realization of these morphological geminates: Either the phonological double is realized with a longer duration than a phonological singleton (gemination), or it is of the same duration as a singleton consonant (degemination).
The present book provides the first large-scale empirical study on the gemination with the five English affixes un-, locative in-, negative in-, dis- and -ly. Using corpus and experimental data, the predictions of various approaches to the morpho-phonological and the morpho-phonetic interface are tested. By finding out which approach can account best for the gemination pattern of English affixed words, important implications about the interplay between morphology, phonology and phonetics are drawn.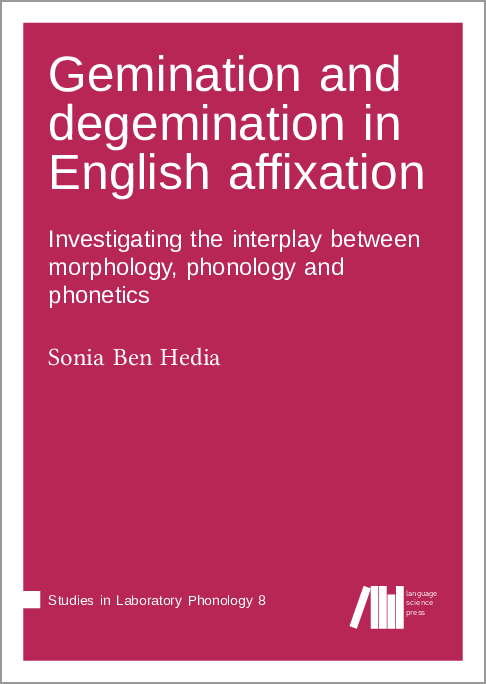 Downloads
Copyright (c) 2019 Language Science Press
License
This work is licensed under a Creative Commons Attribution 4.0 International License.
Details about the available publication format: PDF
ISBN-13 (15)
978-3-96110-188-7
Publication date (01)
2019-07-30
doi
10.5281/zenodo.3232849
Details about the available publication format: Hardcover
ISBN-13 (15)
978-3-96110-189-4