Tone in Yongning Na: Lexical tones and morphotonology
Synopsis
Yongning Na, also known as Mosuo, is a Sino-Tibetan language spoken in Southwest China. This book provides a description and analysis of its tone system, progressing from lexical tones towards morphotonology. Tonal changes permeate numerous aspects of the morphosyntax of Yongning Na. They are not the product of a small set of phonological rules, but of a host of rules that are restricted to specific morphosyntactic contexts. Rich morphotonological systems have been reported in this area of Sino-Tibetan, but book-length descriptions remain few. This study of an endangered language contributes to a better understanding of the diversity of prosodic systems in East Asia.
The analysis is based on original fieldwork data (made available online), collected over the course of ten years, commencing in 2006.
Reviews
Words of praise by Juliette Blevins published June 23, 2017

This book provides an extensive analysis of lexical tone, phonological rules governing tone-to-syllable associations, and tone rules that apply only in certain morphosyntactic contexts. While the content and method are original, the volume is also constructed with an original narrative style: rather than presenting the grammar as a /fait accompli/, the reader is taken through the stages of the analysis, so that each step of the author's scientific method can be appreciated and evaluated. In this way, the work will have a broad application as a learning tool in the evaluation of primary linguistic data, and as a basic text in courses focused on linguistic fieldwork, language documentation, and language description. Dr. Michaud has made it clear exactly how data (phonetic, phonological/distributional, variation) informs analyses, and has made this data available to the larger scientific community. By presenting the analysis as a process of discovery, he engages the reader, in every chapter, with the precise questions he is asking, so that they can contemplate the possibility of alternatives, and actually explore them directly, with the aid of the extensive Yongning Na dictionary and texts that he has put on-line. Overall, there is a refreshing degree of transparency and engagement in the text that will ensure future progress in all of the linguistic areas detailed.
Words of praise by James A. Matisoff published June 9, 2017

/Tone in Yongning Na/ establishes a high-water mark for Tibeto-Burman tonal studies in terms of its level of detail and its subtle analytic insights. This exhaustively researched book will serve as a model for all future work on Tibeto-Burman morphotonology.
Words of praise by Guillaume Jacques published July 20, 2017

A long-awaited monograph on one of the most complex and opaque tonal systems in the Sino-Tibetan family.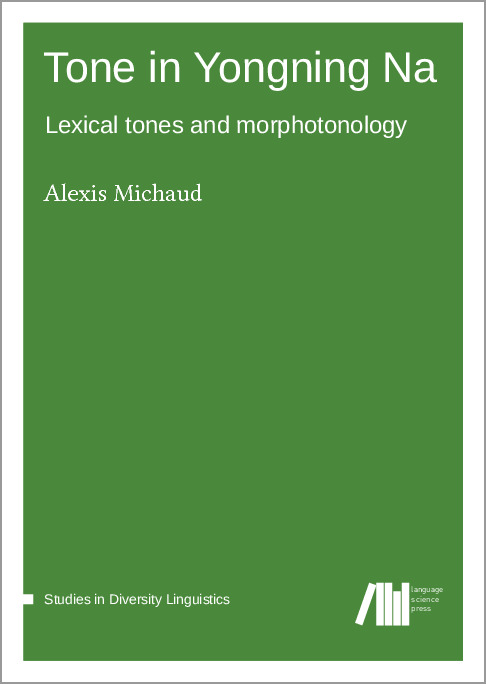 Details about the available publication format: PDF
ISBN-13 (15)
978-3-946234-86-9
ISBN-13 hardcover (28)
978-3-946234-87-6
ISBN-13 softcover (29)
978-3-946234-68-5
Publication date (01)
2017-04-26
doi
10.5281/zenodo.439004